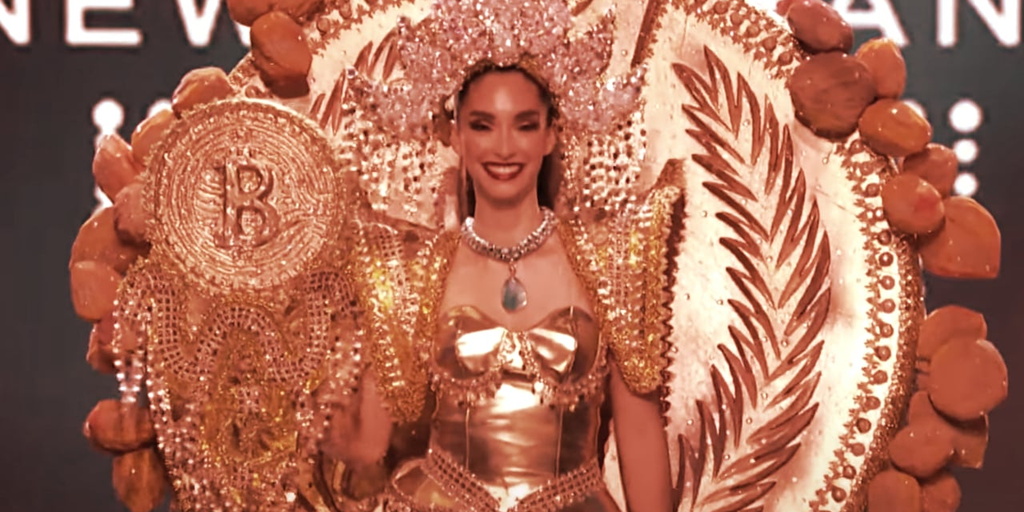 Alejandra Guajardo, El Salvador's representative at Miss Universe 71, wore a Bitcoin-themed outfit during the pageant's National Costume Show on Wednesday night. 
The currency ensemble was designed by plastic artist Francisco Guerrero but placed a special emphasis on the reigning king of digital assets. Guajardo wielded a staff with Bitcoin's logo presented at the tip, and a colón—one of the country's previously accepted currencies—decorated with cocoa beans strapped on her back. 
"This look represents El Salvador's history of currency," said the pageant announcer. "For a long time, cocoa was used, and then the colón, until it was replaced by the U.S. dollar." And then, of course, came Bitcoin.
Miss Universe El Salvador wore an outfit showcasing the different currencies of our country throughout history.

El Salvador is once again putting #Bitcoin  on the international stage. 🇸🇻 pic.twitter.com/EkZ1XlCl0c

— Herbert Esmahan 🇸🇻 (@HerbertEsmahan) January 12, 2023
El Salvador became the first country in the world to make Bitcoin legal tender in 2021. The move was largely met with skepticism and concern from the global community, including the International Monetary Fund and World Bank. U.S. legislators also raised alarms that El Salvador's Bitcoin agenda could cause financial instability in the nation and weaken U.S. sanctions policies.
Although Bitcoin's price has fallen over 50% since the law took effect, El Salvador President Nayib Bukele has remained a steadfast flagbearer for the digital currency. He's been involved in promoting numerous BTC adoption initiatives—though it's unclear if he had any direct role in Guajardo's choice in wardrobe for the pageant.
"You don't need a sash to walk around dressed as cash, like El Salvador," the pageant's announcer said during the broadcast. 
The model's costume at last year's pageant was dedicated to calling for justice against women murdered in El Salvador. Bukele began arresting civilians en masse in 2022 in an effort to combat the country's related crime wave. El Salvador's murder rate has since declined by 56%, according to the Bukele government's own figures.
Meanwhile, El Salvador passed its Digital Securities Law on Wednesday, providing a framework for strict consumer protections in the broader crypto market while "establishing that we are open for business to all those who wish to build the future with us on Bitcoin," per the country's National Bitcoin Office. 
It also paves the way for El Salvador's so-called Volcano bonds—a $1 billion bond issuance plan that will invest proceeds into both buying Bitcoin and building out its geothermal-powered "Bitcoin City."
Stay on top of crypto news, get daily updates in your inbox.
Sourced from decrypt.co.

Written by Andrew Throuvalas on 2023-01-12 21:04:06.