DeFi

www.coindesk.com

18 January 2023 20:53, UTC

Reading time: ~3 m
---
The forerunner of the liquid staking derivatives market, Lido became the largest decentralized finance (DeFi) app by total value locked (TVL) earlier this month, surpassing MakerDAO.
Lido's claim to the throne comes after a period of steady growth for the staking-as-a-service provider. In just the last month its TVL has spiked 33% at press time, according to data from DeFiLlama.
Users have locked $7.8 billion on Lido. The vast majority of that sum comes from Ethereum, with smaller amounts from other blockchains, including Solana.
Interest in liquid staking protocols has swelled in 2023 as governance tokens for these protocols have surged in price. For example, since Dec. 31 to now, the price of LDO has jumped 108% to $2.01, while its average 24-hour volume rose 802%, per CoinGecko. Holders of LDO have a say in how the protocol is managed, from setting fees to assigning node operators.
The present attention and popularity of liquid staking protocols has prompted a narrative in the crypto community marked by users' excitement and elevated willingness to learn about these liquid staking protocols. Lido has been able to gain momentum for its TVL, a popular indicator of the health and interest of the app.
Lido's TVL dropped from $20.4 billion in April 2022 to as low as $4.2 billion two months later following the collapse of Terra, but its TVL has grown rapidly in 2023. Lido's TVL increased in the past seven days and month by 20.02% and 33.13%, respectively, allowing Lido to claim the top rank in DeFi protocols by TVL for the first time.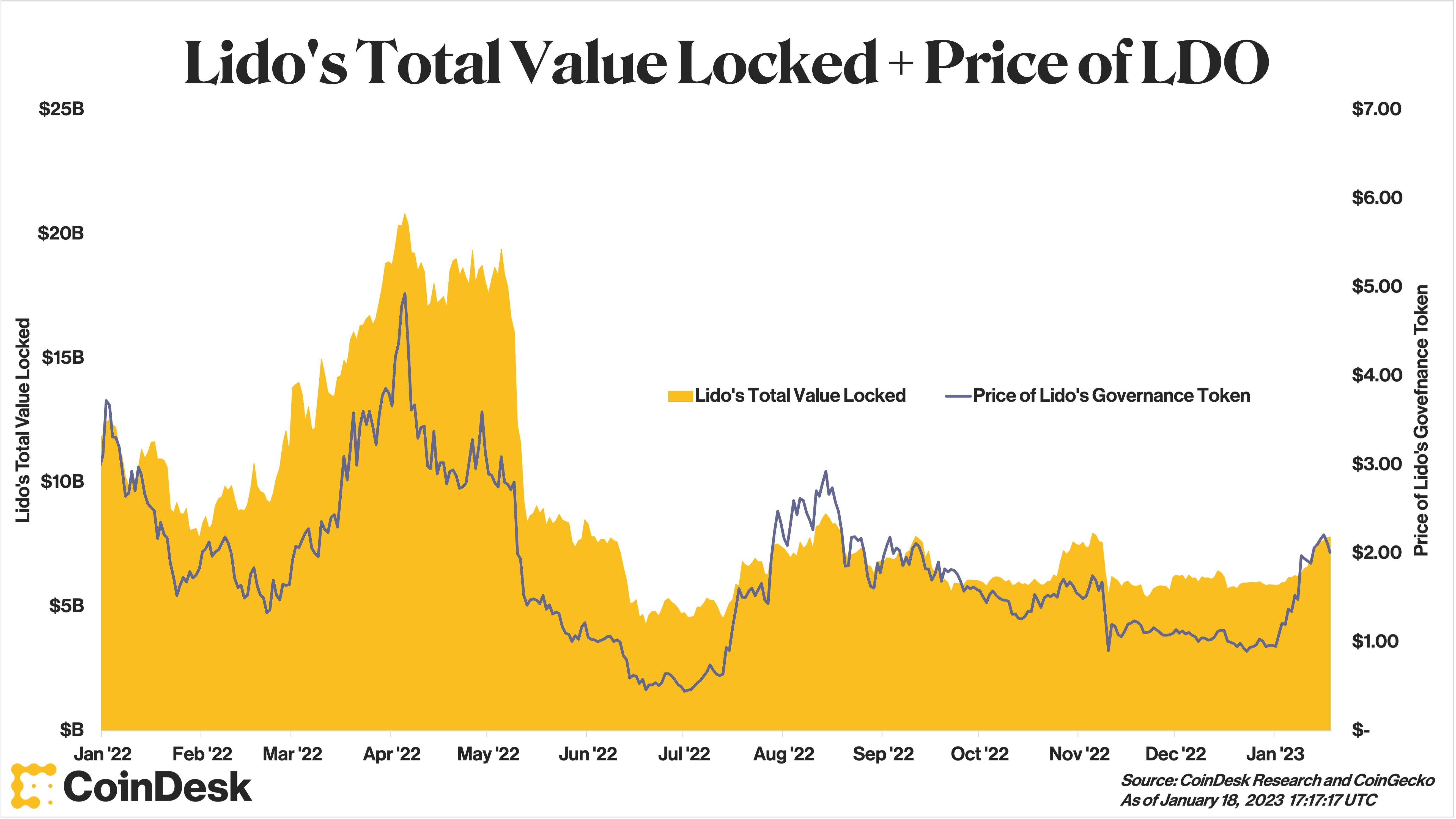 (CoinDesk Research and CoinGecko)
Lido's recent climb comes ahead of the Ethereum blockchain's Shanghai upgrade, the first hard fork since the Merge in September. Set for March, Shanghai will notably allow ETH stakers to withdraw their tokens, which are currently locked on the Ethereum network.
With 20 active developers per Token Terminal, Lido has become the most popular liquid staking protocol, commanding a 29% share of the total ETH staked on Ethereum, according to data from Etherscan.
Ethereum's current proof-of-stake (PoS) consensus mechanism doesn't rely on miners to write and authenticate transactions, but validators who stake ETH for a chance to validate transactions to Ethereum's ledger. Lido, as a staking-as-a-service provider, allows users to deposit any number of ETH to earn staking rewards. Lido's APR currently stands at 5.2% on Ethereum.
In return for staking ETH via Lido, Lido issues stETH, a derivative token that represents the combined value of the user's initial deposit plus accrued interest. According to Nansen, more than 86,000 unique addresses hold stETH.
Currently, 90.12% of total stETH tokens have been sitting in wallets for at least 90 days. More recently, a total of $54.97 million worth of stETH has been transferred to over 2,600 fresh wallets, addresses created in the last 15 days, Nansen data shows.
Lido stakers can hold their stETH, sell it on the open market or use their stETH in various DeFi (decentralized finance) platforms.
According to data from Nansen, of the circulating supply of stETH, some 931,000, or 20%, sits in crypto lending platform Aave's aSTETH Token contract, while roughly 411,000 or 8.75% resides in decentralized stablecoin exchange Curve's stETH-ETH Swap contract, demonstrating the token's wide integration into DeFi protocols.
Lido didn't return a request for comment by press time.
---
Learn more about Consensus 2023, CoinDesk's longest-running and most influential event that brings together all sides of crypto, blockchain and Web3. Head to consensus.coindesk.com to register and buy your pass now.
---
---
Sourced from cryptonews.net.