DeFi

tokenist.com

22 May 2023 19:33, UTC

Reading time: ~3 m
---
Since December 2020, Ethereum investors have been able to participate in the network's staking mechanism, securing the network in the process. However, to stabilize this security, Ethereum developers decided to lock up these funds, until recently, on April 12th. This was when the much-appreciated Shapella upgrade occurred, unleashing liquidity gates.
However, from December 2020 to April 2023, DeFi platforms offered Ethereum users a way to circumvent the lock-up period – liquid staking. The three big ones are Lido, Rocket Pool, and Ankr. These platforms locked users' ETH funds for them in exchange for receiving liquid staking tokens.
Liquidity Dominos Fall Into Place
In the case of Lido, this is stETH, equal to ETH value in a 1:1 ratio, but unlocked to be used across Ethereum's many DeFi dApps for loans and yield farming. Lido is by far the largest liquid staking protocol, at $12,06 billion total value locked (TVL).

Lido cornered the market on Ethereum's staking, at 31.3% marketshare. Image credit: Dune analytics via @hildobby
Conversely, Curve DeFi protocol is the largest liquidity source for stETH tokens to be used. Since the Shapella upgrade went live on April 12th, there has been a sharp drop in Curve's stETH-ETH pool—the expected liquidity exit totals around $424.9 million.
From 468,859 stETH to 331,891 stETH, a 29.21% decrease ($249.3 million)
From 429,984 ETH to 333,483 ETH, a 22.4% decrease ($175.6 million)
However, it is also noticeable that the Curve stETH-ETH pool is now nearly perfectly balanced.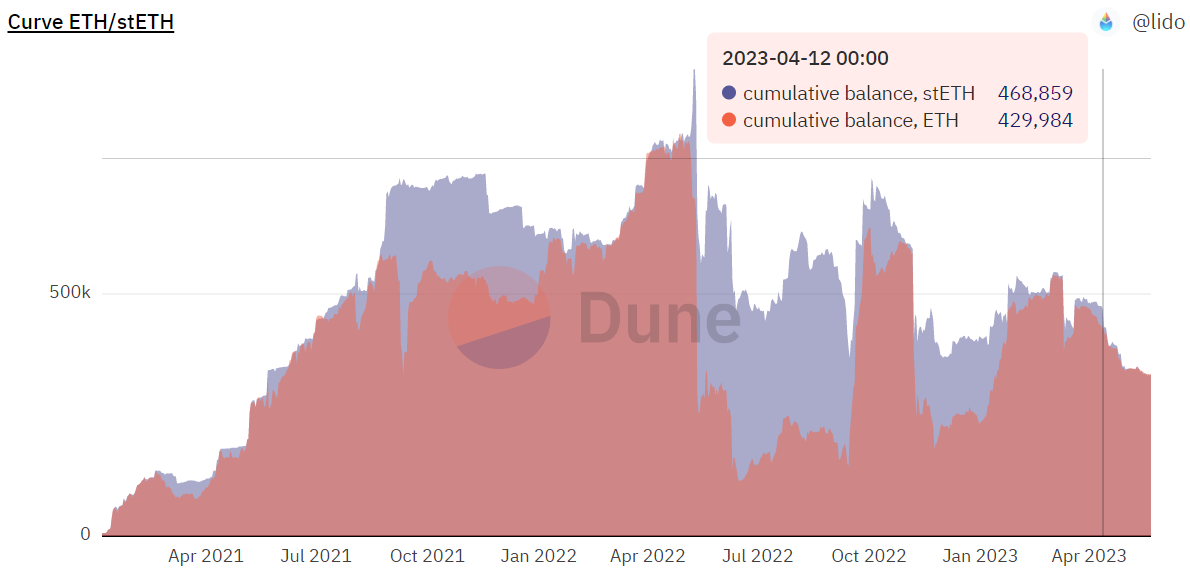 Since May 2022, the pool has become imbalanced in favor of stETH, and again in January this year. Image credit: Dune analytics via @Lido
With users holding both stETH and ETH in equal measure, this indicates that Lido rewards are still sufficient to entice liquid staking. These are issued by Lido DAO (decentralized autonomous organization) in the form of LDO token rewards.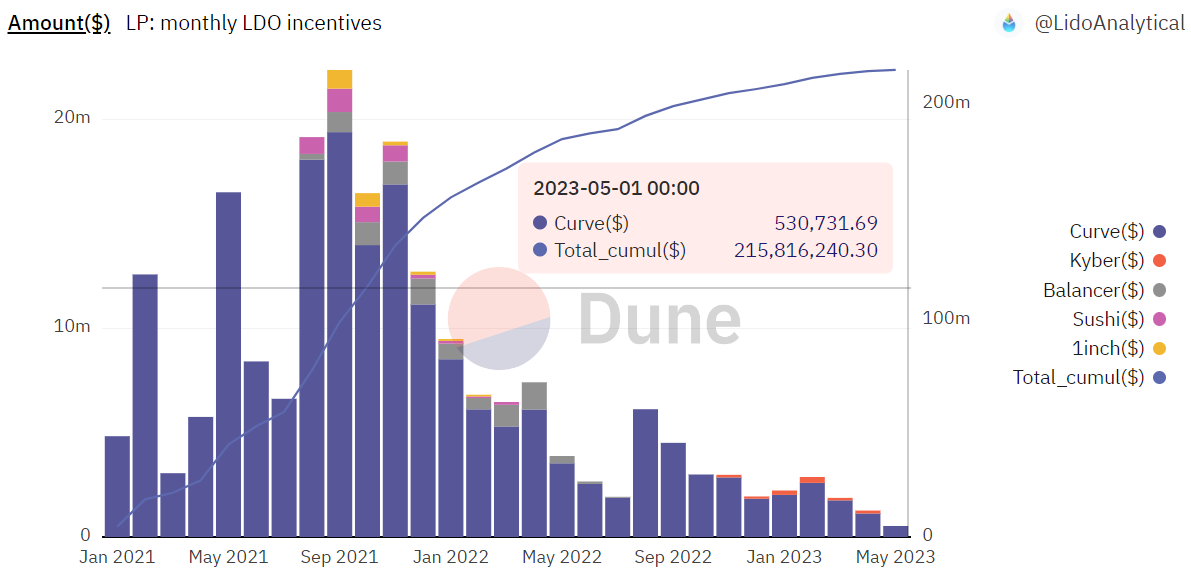 Image credit: Dune analytics via @LidoAnalytical
Once again, just as Lido dominates liquid staking, Curve (blue) remains the go-to pool for monthly LDO incentives, further explaining the now-balanced stETH-ETH ratio.
What About Overall Ethereum Deposits?
Although Ethereum has become deflationary, at -0.307% since the Merge on September 15, 2022, ETH price has increased only 15%. However, ETH is up 51% YTD as the US banking crisis took the public spotlight and the Bitcoin rally reinvigorated the crypto market.
More importantly, when Shapella withdrawals were enabled, concerns about the liquidity death spiral turned invalid. Instead of selling pressure, more deposits took place. After some withdrawal sprees in April, the total amount of ETH locked is now higher than before the upgrade, at 20.8 million ETH (~$37.9 billion).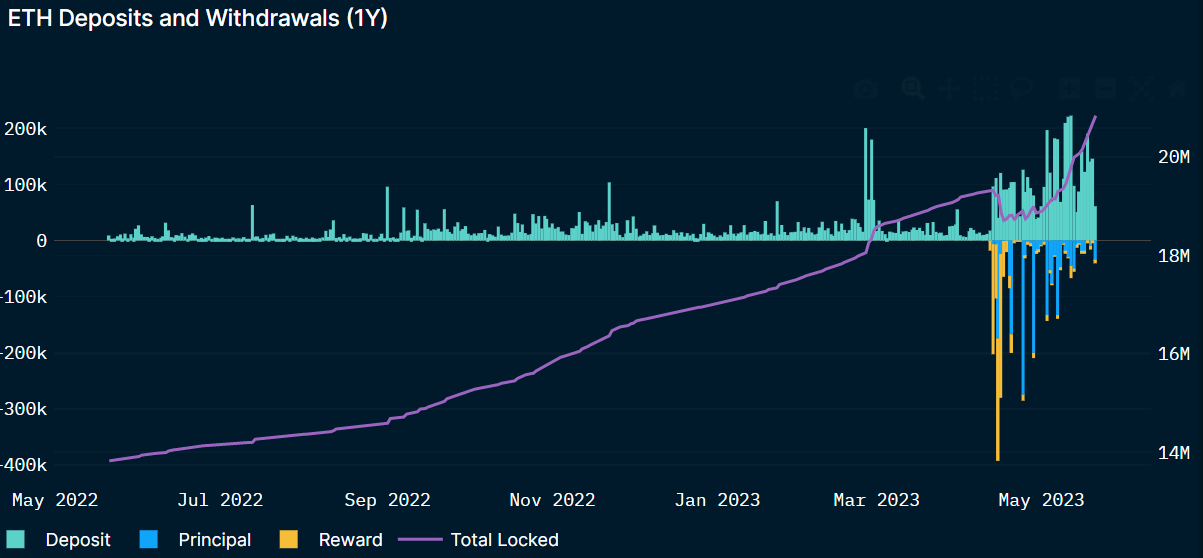 Image credit: Nansen.ai
Unfortunately, with popularity comes network congestion, which Ethereum is yet to tackle with the Surge upgrade that scales Ethereum with data sharding. Suffice it to say; for Ethereum to become the DeFi's infrastructure for global mass adoption, its gas fees will have to be low and consistently so.
---
Sourced from cryptonews.net.