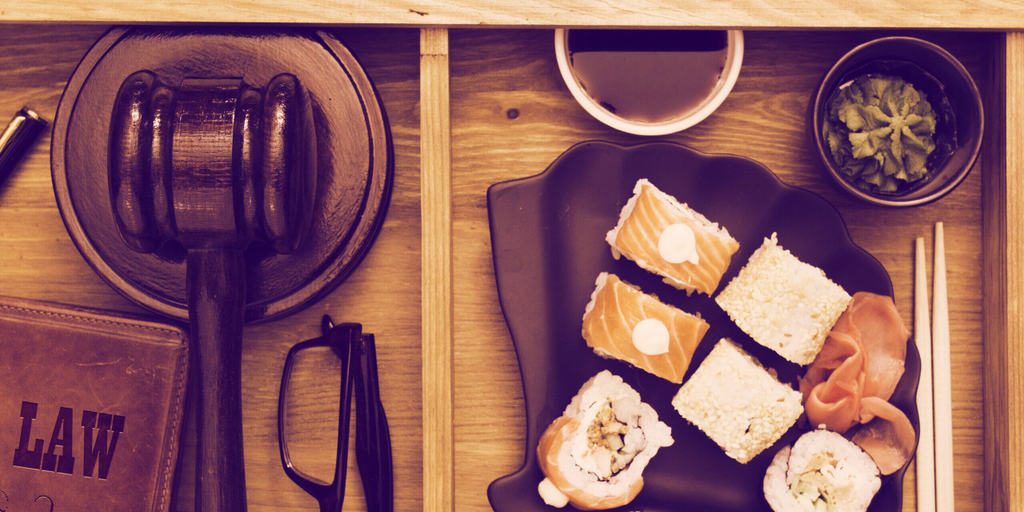 Sushi, maker of the Ethereum-based decentralized exchange SushiSwap, disclosed on Tuesday it had received a subpoena from the Securities and Exchange Commission, signaling it could soon be subject to regulatory enforcement action.
The organization's disclosure came in the form of a proposal submitted to the Sushi DAO for the establishment of a legal defense fund to cover potential legal costs.
"Sushi, and Head Chef Jared Grey, were recently served with an SEC Subpoena," the proposal stated. "We're cooperating with the SEC."
SushiSwap's SUSHI token fell 5% after the disclosure, falling as low as $1.14 from $1.22 in just an hour, according to CoinGecko. 
The subpoena represents just the latest in a string of SEC enforcement actions that include fining cryptocurrency exchange Kraken over its staking product and suing Terraform Labs founder and CEO Do Kwon for alleged securities fraud. As of Monday afternoon, the SEC had yet to announce it delivered a subpoena to Grey or Sushi. 
Sushi did not immediately respond to requests for comment from Decrypt. 
The DAO proposal seeks to make $3 million available for the legal fund in the form of Tether's USDT stablecoin. It includes a contingency that would make another $1 million worth of USDT available if the initial funds are depleted.
At the time of writing, the proposal had 850 page views. One DAO member named Test1 wondered if the SEC sent the subpoena directly to Grey in order to bring an enforcement action against a DAO; such groups typically operate without a centralized entity and prioritizes a flat governance structure using smart contracts.
Sushi created a legal entity "to reduce liability" and then that entity and an individual associated with it got subpoenaed.

PSA: if there's an entity, it's not a DAO

Don't let lawyers talk you into incorporation… unless you want to be a corporation. https://t.co/DATkdiPTCs

— Erik Voorhees (@ErikVoorhees) March 21, 2023
"The SEC will go for easy victories and the easiest is to grab anyone on the US soil," a member named Miohtama responded. "The simplest solution would be to make sure that Sushi DAO does not have anyone from the US involved from now on."
According to his LinkedIn profile, Grey is based near Tampa Bay, Florida. Grey did not respond to requests for comment from Decrypt.
Tuesday's revelation isn't the first time a financial watchdog has gone after a DAO. Last September, the Commodity Futures Trading Commission (CFTC) filed a lawsuit against Ooki DAO, the organization behind the Ooki Protocol, a decentralized finance platform. That action raised major new legal questions for DeFi founders and DAO members. In December, a California court ruled that the CFTC needs to serve specific individuals in a DAO (in the case of Ooki, the DAO founders), not the DAO as a whole. 
SushiSwap is ranked No. 14 among other decentralized exchanges in terms of daily trading volume, with an average of $30.7 million, according to CoinGecko. Its most popular trading pair is Ampleforth (AMPL) and wrapped Ethereum (wETH), which comprised 28% of the exchange's daily trading volume.
Stay on top of crypto news, get daily updates in your inbox.
Sourced from decrypt.co.

Written by André Beganski on 2023-03-21 18:38:52.