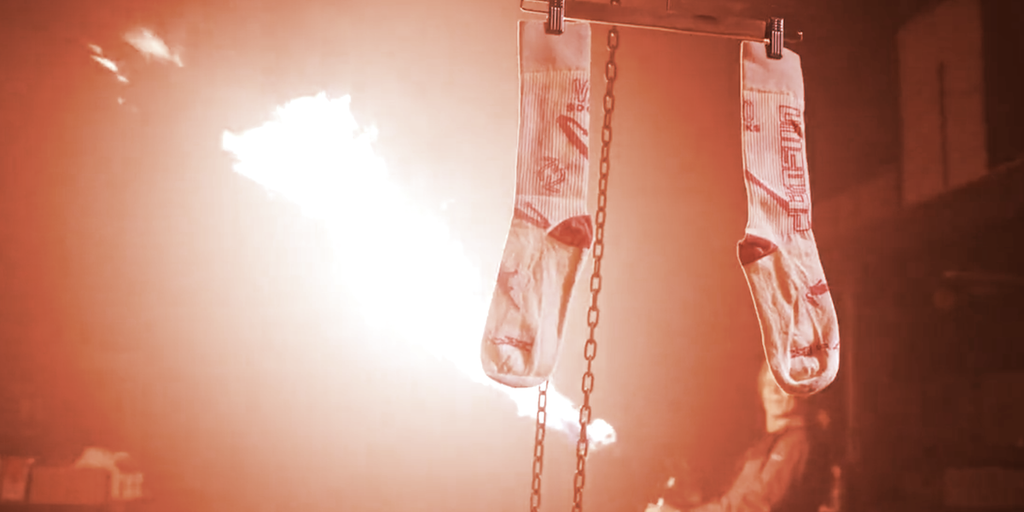 PleasrHouse, a recently launched streaming auction series from Web3 collective PleasrDAO, has orchestrated a pair of compelling sales so far—including a Pentagon Papers-themed NFT in collaboration with Edward Snowden, and the physical couch seen in the classic Doge meme.
But for its next trick, PleasrDAO plans to burn socks… in both token and physical form.
On Tuesday night, the group will kick off a 24-hour PleasrHouse auction around Unisocks, a historic project from leading decentralized exchange (DEX) Uniswap. Created in 2019, Uniswap launched 500 SOCKS tokens on Ethereum, and promised buyers that they could "burn" (or permanently destroy) a token in exchange for the physical socks.
With such a limited quantity of socks, Uniswap used a bonding curve to automatically boost the price with each new token sold. The first token sold for just $12, but as of now, a SOCKS token sells for about $42,400 worth of ETH. Over the years, Unisocks have become a physical-meets-digital status symbol for DeFi degens.
PleasrHouse has a few things planned for the online auction. First off, it will auction SOCKS token #69, with Uniswap creator Hayden Adams—who helped conceive the PleasrHouse sale—and Rainbow co-founder Mike Demarais joining live for the final hour of the streaming auction on Wednesday night.
On top of that, PleasrHouse will sell its own limited-edition NFT called Uniblocks, inspired by Unisocks, with a total supply of 2,000 NFTs that will be "redeemable for something wearable" if they sell out, PleasrDAO Head of Marketing Chris Eberle told Decrypt.
Each Uniblocks NFT will sell for 0.1 ETH, or about $180 at present. For each 666 Uniblocks NFTs sold, PleasrHouse will burn one of three SOCKS tokens it acquired specifically for the event. Doing so will redeem the fungible token for the physical Unisocks, as well as a commemorative NFT (or non-fungible token).
And if all 2,000 Uniblocks NFTs are sold, PleasrHouse will then physically burn three pairs of Unisocks on the stream—with a flamethrower. One pair will come from Adams' own feet, and the collective ashes will apparently be used to create the wearable for Uniblocks buyers.
"[Adams] describes them as gross, maybe a little moldy, as he has never washed them," Eberle explained. "So we're gonna trade him for a pair of our new socks, and torch his. So if we happened to forge something with the ashes, people could have their own little piece of not just Unisocks, but Hayden's moldy Unisocks."
In the run-up to the auction, PleasrDAO has jokingly encouraged people to "harass" other SOCKS token holders, trying to goad them into burning their own holdings as part of the celebration. Eberle said it's a callback to the "Redeem You Cowards" meme that Demarais and others perpetrated in the early days of Unisocks, but that it's "mostly just for fun."
We'll see whether PleasrHouse ultimately sells enough NFTs to burn both digital SOCKS and physical Unisocks on Wednesday night. In any case, the campaign may turn newer generations of Web3 users onto the influential and high-value Unisocks, which predate more recent apparel brand moves and tokenized fashion drops by years.
"For all the absurdity and memes, I really think Unisocks are an important part of DeFi and NFT history," Eberle said, adding that it used a "simple but elegant model" that tied together multiple tokens and physical apparel. It also innovated on digital receipt, proof of redemption, and token-gating mechanics that have since spread far and wide.
"Big brands like Adidas, Gap, and RTFKT have Unisocks to thank for stepping (sorry, had to) into this space," he added. "Basically it's all Unisocks. Always has been."
Stay on top of crypto news, get daily updates in your inbox.
Sourced from decrypt.co.

Written by Andrew Hayward on 2023-03-21 22:14:07.