Decentralized video games like the world-famous Axie Infinity (AXS) and The Sandbox (SAND) have had their winning moments.
The massive popularity of play-to-earn tokens led to significant price inflation in 2021. As the bear market set in, iInvestors were quick to pull out holdings from record-high levels as the price of AXS and SAND started to drop.
We look at Axie Infinity and The Sandbox and also take a bonus look at The Hideaways after they smashed through their Phase 1 presale target in their first week of launch.
Axie Infinity (AXS) Up 2.22% in 7 Days, Bearish Signals Still Dominate
Axie Infinity is a hugely popular project that disrupted the gaming industry via the play to earn model. Everybody loved the idea of earning crypto currency whilst playing a game and the Axie Infinity experience huge gains as a result.
But Axie Infinity (AXS) players might have become too focused on the earn side, leaving all the enjoyment behind. After its in-game currency, Smooth Love Potion (SLP), fell from grace last year, AXS has struggled to stage a comeback and its price is well off its all time highs.
Axie Infinity (AXS) recently traded at $14.65, up 0.70% for the day. The coin's 7-day chart reveals a 2.2% increase, supported by the latest bullish streak in the crypto market. However, AXS is still down 24.10% from last month.
The current RSI of 50.0 signals that more buyers are coming in. However, the 50-day EMA had just crossed the 20-day EMA in mid-August, indicating potentially bearish long term sentiment. Moreover, there are no projects from the Axie Infinity ecosystem to trigger an upward price movement as of late.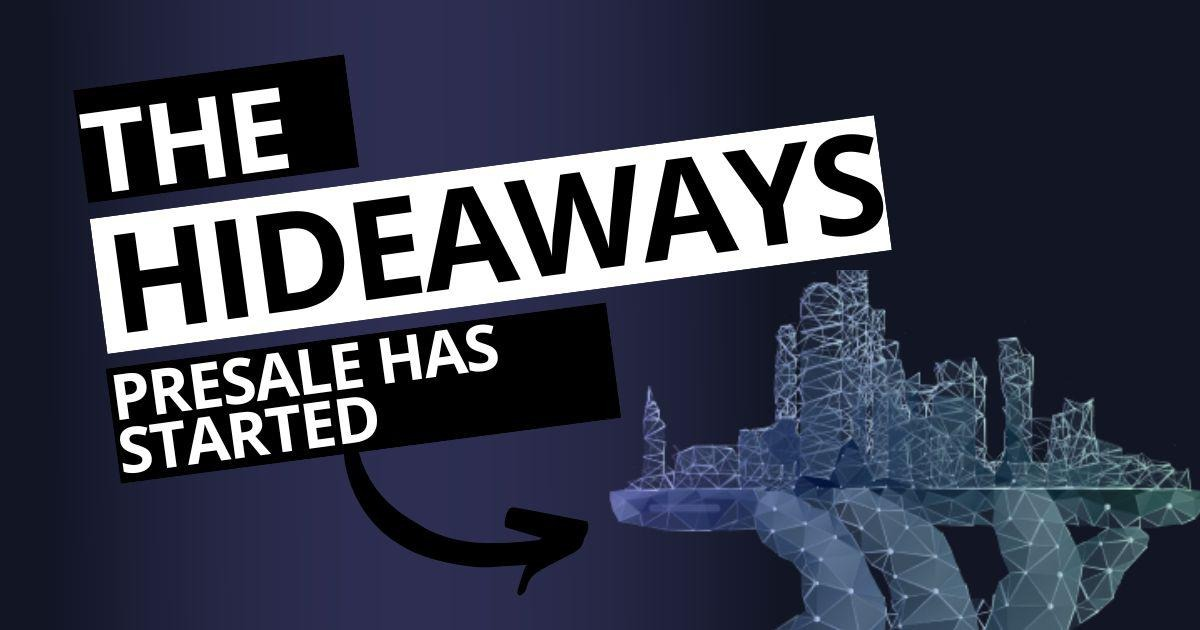 The Sandbox (SAND) Bearishness Looks Set to Continue
Another play-to-earn platform The Sandbox (SAND) has also suffered recently, with that suffering looking set to continue despite the team securing a high-profile deal with Renault Korea to hasten the latter's Metaverse thrust.
SAND was recently seen exchanging hands at a 0.12% increase to $0.98, down 26% from August. Buyers pushed prices to $1.05 briefly before sellers took over. The $1 is proving to be a hard resistance to break as many are pocketing small gains from this level.
The coin's moving average does not give a hint of a pattern reversal. The 50-day EMA remains above a shorter timeline, while RSI is moving slowly to 50.0.
Based on this, it looks unlikely that SAND will break from the overall bearish sentiment in the crypto market at the moment. 
The Hideaways Smashed Phase 1 of Presale
The Hideaways is a brand new project, which makes it perfect for investors who want to invest in a project that is in its infancy and benefit from the potential price growth that it will experience as it gains in popularity.
Early investors are already being rewarded with a 100% price gain if they invest before Saturday and the team have confirmed that if demand is maintained, then the price will continue to rise on an almost weekly basis!
Investors can also expect to hear huge real world rental income that will perfectly supplement the HDWY staking rewards to be expected when holding the HDWY token. This combination of web2 and web3 passive income is a game changer and investors have taken note.
The project is now in Phase 2 or 3 but with price rises confirmed, investors are rushing to secure their HDWY tokens. With payday incoming and a 100% gain guaranteed, they'd be silly not to!
Check them out whilst the HDWY token is still priced at $0.01.
Website: https://www.thehideaways.io
Pre-Sale: https://ticket.thehideaways.io/register
Telegram: https://t.me/thehideawayscrypto
Twitter: https://twitter.com/hdwycrypto
Sourced from u.today.

Written by
The Hideaways
on 2031-10-21 09:38:07.