DeFi tokens show resilience with a 15% market cap increase.
Aave, Uniswap, and STACKS experience notable price movement.
In today's crypto market, Defi tokens have showcased exceptional performance. It is currently outshining in the ever-evolving landscape. Over the past two weeks, the total market capitalization of DeFi has witnessed a remarkable 15% increase, soaring from $41.5 billion to $47.8 billion. Aave, Uniswap, Stacks, and Synthetix have been the major key players in the DeFi ground.
According to CoinmarketCap, the current market cap of DeF is $44.27B with a trading volume of $3B.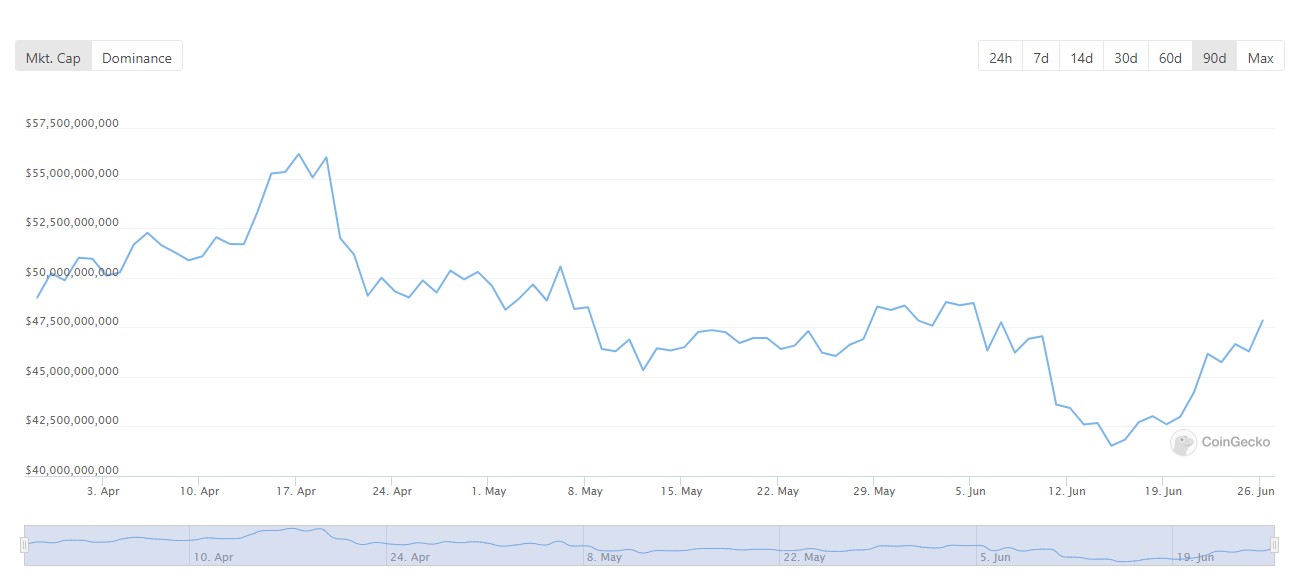 Overall DeFi Market Cap, Source: CoinGecko
Aave (AAVE)
Aave (AAVE) has experienced a significant upswing, surging by 44% in the past two weeks and breaking the $67.8-$66.8 resistance barrier. If buyers can sustain this breakthrough, there is potential for a further 10% increase, with the resistance trendline within reach.
However, it is important to note that Aave is currently priced at $64.92, showing a 10.54% decline in the last indicating some volatility in the market.
AAVE 7D Chart, Source: CoinMarketCap
Uniswap (UNI)
Uniswap (UNI) has also attracted attention from investors as it witnessed a 22.33% surge last week and broke through a resistance trendline of a channel pattern. This breakout suggests a shift in sentiment from selling on bounces to buying on dips. If the daily candle closes above the resistance trendline, buyers might find support at this level, potentially driving the price higher.
According to CoinMarketCap, UNI is currently trading at $5.46 with a surge of 2.45%.
UNI 7D Chart, Source: CoinMarketCap
Stacks (STX)
STX, a Bitcoin Layer for smart contracts, has experienced a notable surge of 32.07% over the past week. With its ability to enable smart contracts and decentralized applications to utilize Bitcoin as an asset and settle transactions on the Bitcoin blockchain, STACKS has gained attention amidst the positive sentiment surrounding Bitcoin.
According to CoinMarketCap, STX is currently trading at $0.7466 with a surge of 1.62%.
STX 7D Chart, Source: CoinMarketCap
Synthetix (SNX)
Synthetix (SNX) presents an interesting opportunity as it challenges the upper trendline of a falling channel pattern. Over the past week, SNX has surged by over 19.10%. However, if supply pressure persists, there is a possibility of a reversal from this trendline, potentially pushing the price back to a lower trendline.
According to CoinMarketCap,It is important to note that SNX is currently priced at $2.14, showing a 7.13% decline.
SNX 7D Chart, Source: CoinMarketCap
Finally,While DeFi tokens have faced volatility and have had mixed performance throughout 2023,Even currently the DeFi market cap is down 20.42%.Yet it is believed that they might jump up in a brief time as the overall sentiment in the crypto market improves.
Disclaimer: The above analysis is based on technical charts and market trends and should not be considered as financial advice. Cryptocurrency investments carry inherent risks, and readers should exercise caution and conduct their own research before making any investment decisions.
Sourced from cryptonews.net.