The total value of assets locked (TVL) on the Cardano (ADA) network reached a one-year high of more than $200 million on July 14. This peak coincided with capital inflows as the asset's market cap approached $2 billion.
Cardano's TVL spiked to $209 million, the highest point this year. However, as of this report, the value has slightly retraced to $192 million.
Cardano TVL Hits New Yearly High
The number of ADA tokens locked in DeFi platforms is nearly 600 million. Indeed, it stands at a yearly high of 587 million at the time of writing.
This milestone emphasizes the increasing decentralized finance (DeFi) activity on Cardano this year, as more traders engage with decentralized applications (dApps) built on the network.

Cardano DeFi TVL Surge. Source: DeFiLlama
The growing TVL is linked to a rise in the network's decentralized exchange (DEX) trading volume. Since the beginning of this year, Cardano has witnessed an increase in its transaction volume, reaching a peak of $274.81 million in June.
Early data from July suggests this trend is holding steady, with a recording of $92.85 million as of July 15.
ADA Market Cap Rises by $2 Billion
The market cap for Cardano's ADA has also seen significant growth, rising to nearly $13 billion on July 14.
Between July 13 and 14, ADA received an inflow of $2.10 billion, elevating its market cap from $10.11 billion to $12.89 billion. Still, it suffered a correction to $11.70 billion.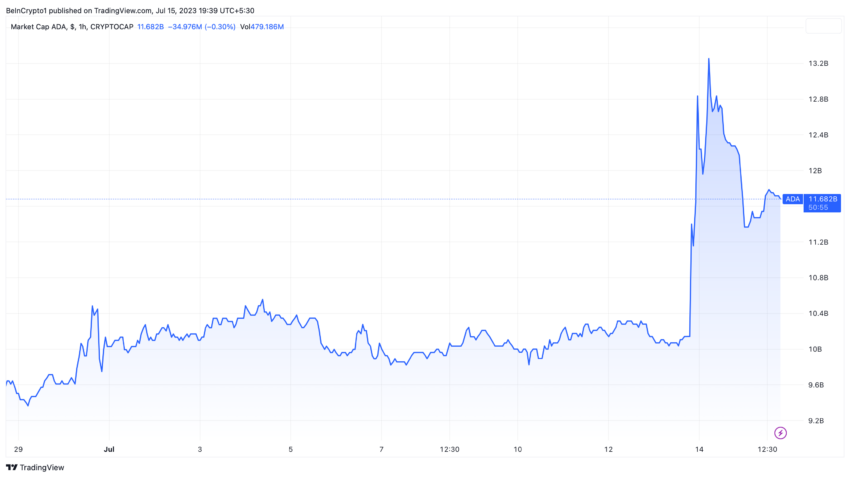 Cardano's ADA Market Cap. Source: TradingView
The rise in market cap correlates with a sharp increase in ADA's value over the same period. ADA peaked at $0.37 in the past week, reflecting a more than 16% gain.
Nonetheless, over the past 24 hours, the value has slightly retracted to $0.33, a decrease of 3.90%.
Hoskinson Celebrates Verdict in XRP Case
In other news, Cardano's founder, Charles Hoskinson, hailed the SEC vs. Ripple case verdict, applauding Ripple's CEO, Brad Garlinghouse, and CTO, David Schwartz, via a tweet.
Hoskinson also commended the XRP community on its victory, labeling it a significant stride for all cryptocurrencies.
"Well done XRP. One small step for XRP nation, one giant leap for cryptocurrencies," said Hoskinson.
Despite previous criticisms of the XRP community, Hoskinson appears to be mending bridges following the SEC's actions against the broader crypto industry.
Sourced from cryptonews.net.