DeFi

beincrypto.com

04 May 2023 11:02, UTC

Reading time: ~2 m
---
A new consortium comprising NEOPIN, Galaxia Metaverse, and BKEX Labs will develop a DeFi lending protocol using real-world assets (RWA) as loan collateral in Korea.
New DeFi Protocol Ensures Real-World Asset Liquidity
The project will tokenize expensive assets like real estate and cars amid growing RWA interest from traditional companies. Accordingly, it will stabilize and increase income from a new decentralized finance (DeFi) lending protocol called ELYFI.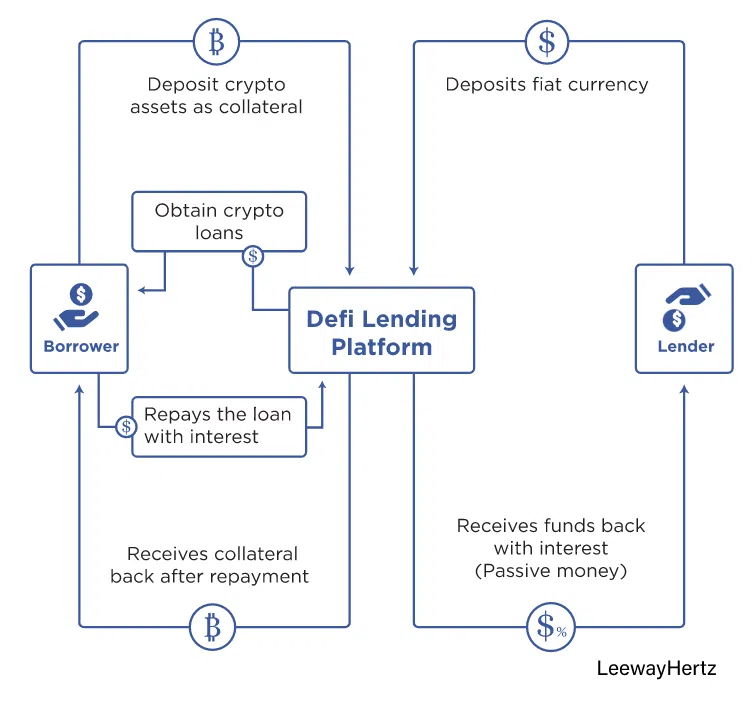 RWA Tokens Replace Crypto Collateral in DeFi Lending Protocol | Source: LeewayHertz
Customers can pursue legal action through ELYSIA's status as a DAO LLC in Wyoming, USA. ELYSIA is a real-world asset tokenization protocol.
Arguably, Wyoming has the most advanced state crypto rules with legal structures for crypto custody and decentralized autonomous organizations (DAOs)
Assets can be liquidated through ELYFI in addition to being used as collateral,.
Tokenization allows the management of tangible assets on the blockchain and effects the direct asset transfers of normally illiquid assets without a broker. Additionally, it offers banks which cannot hold crypto the opportunity for fast asset transfers.
A spokesman for ELYSIA said:
"We believe that RWA-based lending protocols will be attractive not only to regular users but also to crypto institutions, projects, and other DeFi."
Coinbase and Binance recently released reports on real-world tokenization.
JPMorgan Sees Public Blockchains as the Future of RWA
JPMorgan used an Aave-permissioned pool to exchange tokenized Singapore dollars for Japanese yen and turned fiat into tokens using the ERC-20 token standard.
The bank used verifiable credentials to allow traders access to the pool and then built an on-chain verification system through a group of smart contracts that could confirm identity.
Each trader was issued a verifiable credential which they attached to the trade action. However, Aave was unaware of the trader's identity, eliminating censorship fears affecting frontends for DeFi services like Tornado Cash.
The bank used Polygon for the transfer and paid the fees using MATIC. Consequently, the bank sees public blockchain asset transfers as the future.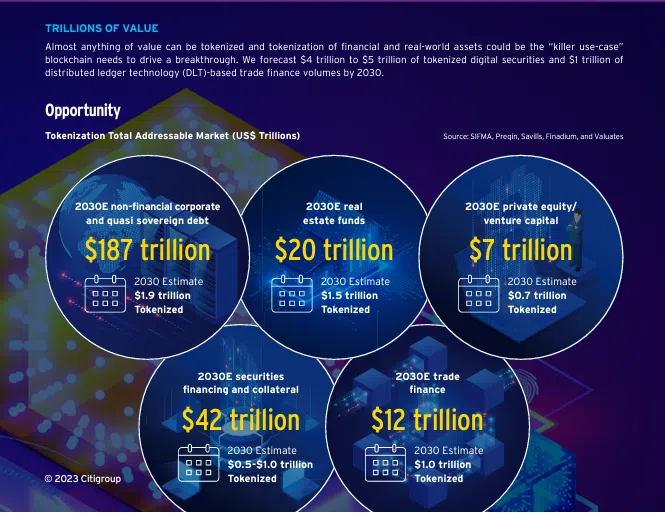 Total Addressable Tokenization Market | Source: Citigroup
Citibank recently suggested that tokenization would grow 80 times in private markets as blockchain's next "killer use case."
---
Sourced from cryptonews.net.