Several popular DeFi protocols have enjoyed a steep, overnight rally.
The token powering the lending platform Compound has soared more than 4% in the last 24 hours, hitting $63.07, per CoinGecko. Elsewhere, the niche's decentralized stablecoin minter Maker is also enjoying a bullish rise, with MKR jumping 9% over the same period.
Stepping back, and the latest price action comes amid a sustained rise over the past week.
Ethereum-based lending protocol Compound (COMP) token topped the weekly gains in the top 100 tokens on CoinGecko, up 76.1% over the week from $37.62 last Monday.
Notably, Maker (MKR) also posted impressive gains of 31.5% in 7 days, following a vote to increase yields on its DAI stablecoin
Ethereum (ETH) surged above June's high trading range of around $1,920 at the start of July, strengthening buyers' confidence in the market.
Elsewhere, Index Coop's DeFi Pulse Index, DPI, composed of the top 10 DeFi tokens weighted by market capitalization, rose by 14.5% in 7 days, compared to ETH's 3.7% since last Monday.
Compound raises markets hopes
Despite the rise in its governance token, there have not been any meaningful changes in terms of lending or borrowing volumes, per data from DeFi Llama.
The price surge may be attributed to speculation around a new project launched by Compound's founder and an ongoing short-squeeze in the derivatives market.
Robert Leshner launched a new company in the U.S. called Superstate to issue tokenized government bonds and promote DeFi's integration with legacy finance.
While he didn't announce a token linked to the new platform, there's speculation that COMP may find a place within the new protocol. Some entities have also come out criticizing the move.
imagine being a COMP holder atm

the key employees of Compound Labs (core dev shop) announce the launch of a new company, which might accrue some value back to COMP (e.g. if its products use Compound in the backend)

but as a COMP holder, you really have no clue what's going on

— Token Terminal (@tokenterminal) June 28, 2023
Inspecting COMP short-side liquidations on crypto derivatives exchanges also suggests a short squeeze may be affecting the token's price action. A short squeeze is a phenomenon that occurs when an asset's price rises, as most traders who had bet against its price are forced to buy at a loss or experience forced liquidation.
Coinglass data shows that the liquidations, particularly on the short side, surged considerably toward the end of June, reaching three-month highs.

COMP liquidations on derivatives exchanges. Source: Coinglass
Maker increases its revenue
As for Maker, MKR's weekly gains of over 30% have occurred amid increased revenue on the protocol and reports of whale accumulation.
The DeFi protocol enables the minting of U.S. dollar-pegged stablecoin DAI in exchange for crypto assets as collateral.
The MakerDAO community in mid-June voted to increase the DAI Savings Rate (DSR), a return for holding and lending DAI, from 1% to 3.49%.
The "smart money" holdings of MKR tokens have also spiked since May, per Nansen data. These MKR balances increased by 32% in June, adding tokens worth around $16.7 million.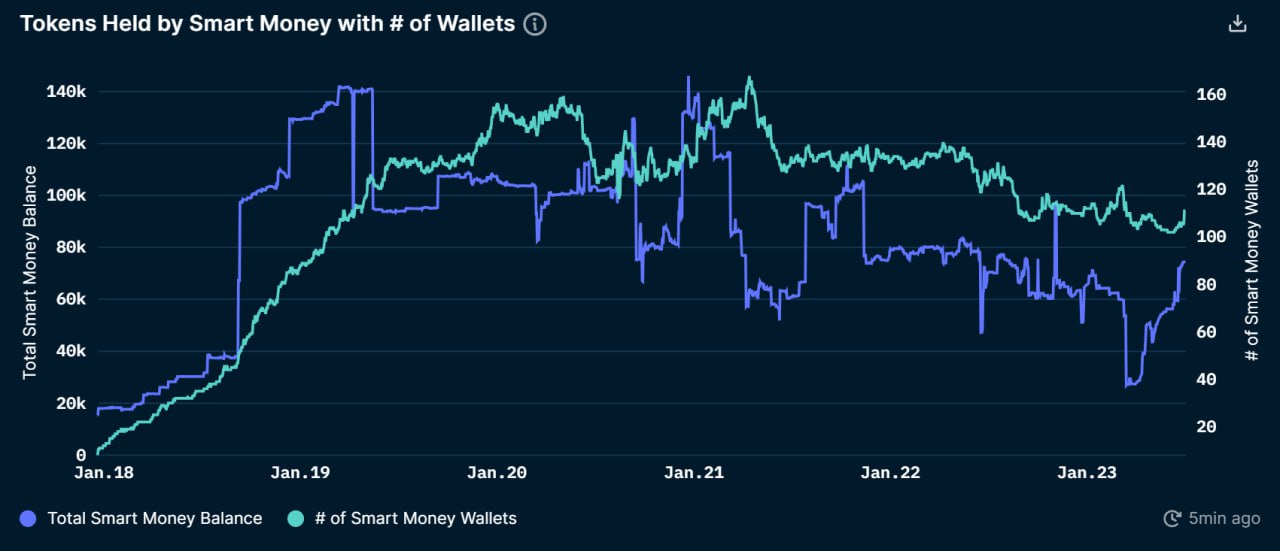 The smart money holdings of MKR. Source: Nansen
MKR trading volumes on crypto exchanges have also increased three to five times since last week from levels around $10 to $20 million at the start of June, reaching a high of $100 million on July 1.
The views and opinions expressed by the author are for informational purposes only and do not constitute financial, investment, or other advice.
Sourced from cryptonews.net.