Charles Hoskinson has called out Twitter and crypto media content.
The Cardano (ADA) community is divided with numerous reactions.
The price of ADA has dipped 7% over the past 24 hours.
Charles Hoskinson, the self-appointed "King of the Rats," is known for the transparency of his Twitter account and media presence. In his latest tweet, the Cardano and Input Output Global (IOG) co-founder has called out the content on Crypto Twitter and crypto media.
On March 7th, 2023, Hoskinson has suggested that Crypto Twitter and cryptocurrency media content have an "incentive is to promote division, controversy, and drama" as opposed to covering what he has described as "constructive stuff."
Contingent Staking Debate Continues
The controversial call-out is accompanied by Hoskinson's statement that Crypto Twitter and crypto media outlets "somehow completely forgot" to report on the two-hour Twitter space wherein he recently participated.
The two-hour Twitter space debate on contingent staking took place on February 21st, and recorded a whopping 40.2 thousand tune-ins from the Cardano community.
At the time of writing, the price of ADA is trading at $0.32 USD, recording a 16.60% plunge over the past thirty days.
Cardano's native token has been on a steady downward trajectory since February 15th, following the network's SECP or Valentine's upgrade to increase interoperability and secure cross-chain development.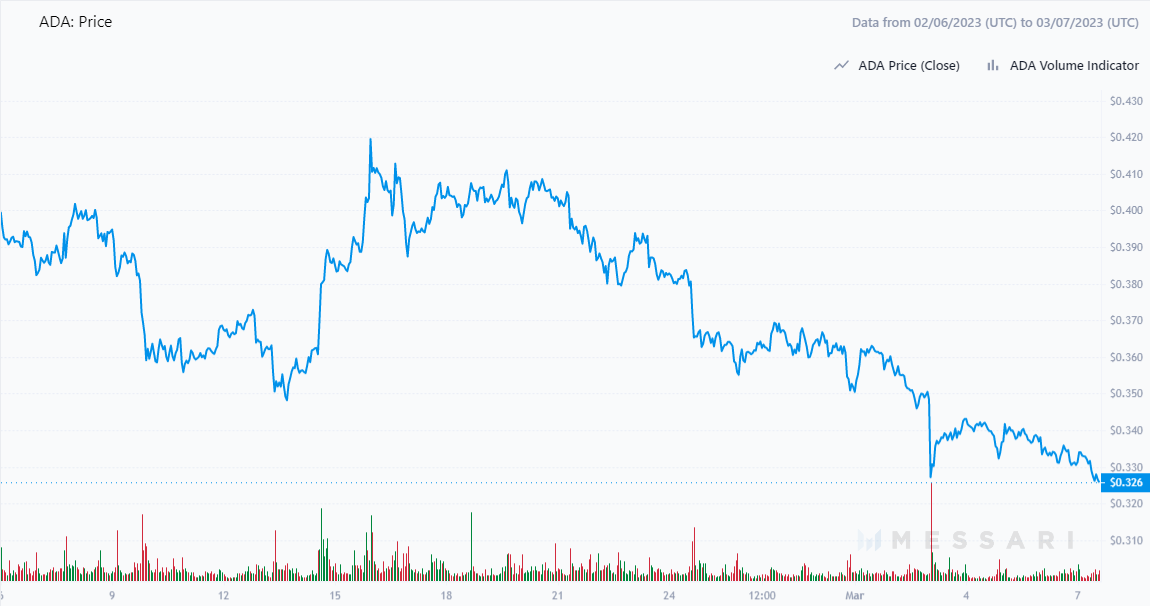 One-month price chart for Cardano. Source: Messari
A 7% decline has been recorded for the price of ADA within the past 24 hours following the tweet by Charles Hoskinson. The community has been active in replying to Hoskinson's rip into Crypto Twitter and what he has described as "AI-generated crypto media content."
The tweet by Charles Hoskinson has thus far created a stir on Crypto Twitter, accumulating 92.2 thousand views and 164 comments in the first 12 hours after its publication.
Cardano community members are divided about Hoskinson's claims. One member Fausi has declared that many are not particularly interested in the drama on governance and staking on Cardano.
Prominent Cardano supporter Stake with Pride has resurrected the Hoskinson-Coinbase conversation in response to Hoskinson's call-out of crypto media. The hypothetical acquisition of Coinbase would place Hoskinson at a crossroads of conflicting interests by simultaneously assuming a position in the media and being a topic for media content.
Negative sentiment has surfaced as Sir Crypto Conrad has suggested that ADA holders just want the cryptocurrency to "100x" without knowing the exact details of how it works. AI Saeed has reciprocated the FUD by claiming that the "idea is nice," but that ADA investments and NFT assets are still sinking.
Some Twitter users are claiming that the Twitter space was not advertised enough and hosted at an inaccessible time as an incentive to "make bad call-outs on Twitter" afterward.
In contrast, some members agree that Twitter is prone to pushing certain agendas, and that "every other media other news organization" also fits Hoskinson's tirade.
Charles Hoskinson's discontent with the media is a running narrative, as the crypto cowboy has previously addressed "journalistic integrity," stating that "everyday people should not trust the news that they read."
On the Flipside
During the Twitter space on February 21st, Hoskinson described the contingent staking drama as a "bizarre debate" that was failing to make sense to him.
Cardano is an AI advocate, with the SingularityNET (AGIX) AI marketplace recording a spike of 910% over the past three months.
Why You Should Care
Charles Hoskinson is an influential figure in the Crypto Twitter and Cardano communities, among others. His accusations against Twitter and the crypto media about incentives and forced narratives are reaching a considerable audience and stirring a conversation on Twitter.  
As a crypto news outlet, DailyCoin works to preserve the values of journalistic integrity in practice.
Read more about the Twitter space on contingent staking:
Cardano Community Digest: Contingent Staking, SECP, and Twitter Drama Recap
Read more about Charles Hoskinson's CNFT enthusiasm:
Sourced from dailycoin.com.

Written by on 2023-03-07 18:30:00.