Grayscale, the subsidiary company of Barry Silbert's Digital Currency Group, launched the Ethereum Classic Trust to the public market on April 26.  According to the company, the aim was to enable institutional and conventional investors to utilize a strictly regulated traditional investment vehicle to invest in the altcoin.
The market, which anxiously awaited for the launch of Ethereum Classic Trust, demonstrated an immediate reaction. As Silbert noted, the price of Ethereum Classic (ETC) rose 20 percent within the first week of the Trust's launch, and the cryptocurrency's market cap surpassed $500 million.
Grayscale's decision to introduce a traditional investment vehicle on Ethereum Classic instead of Ethereum came as a surprise to both communities. However, Silbert emphasized that ETC demonstrates the qualities of a store of value and currency that Ethereum fails to portray.
As reported by BTCManager on March 3, the Ethereum Classic development team, better known as ETCDEV, moved toward initiating a clean and non-controversial hard fork to overhaul Ethereum's initial monetary policy.
The original Ethereum network operates on an inflationary monetary supply, in contrast to most cryptocurrencies including bitcoin. For that reason, the cryptocurrency community perceives ether (ETH) as a 'crypto asset' rather than as a cryptocurrency. Ethereum has a 14.75 percent inflation rate. The Ethereum Classic development team, as well as its stakeholders, miners, and users, did not agree with the monetary policy of ETH because it lacked scarcity, an important characteristic that sustains the value of a currency.
BitNovosti.com owner Arvicco, who began the Ethereum Classic movement, said:
"Platform token is a critical part of blockchain system that aligns economic incentives of key stakeholders, users, developers, investors, and miners. Its monetization makes everything tick and helps to bootstrap the ecosystem. However, it has been shown time and again in economic history that reliable long-term monetization is impossible without two key characteristics; utility and scarcity."
Barry Silbert explained that the recent change in the monetary supply of Ethereum Classic was what ultimately convinced Grayscale to adopt and launch a traditional investment vehicle for the cryptocurrency.
As mentioned above, the price of ETC has been on an upward trend and is expected to maintain its momentum in the short and mid-term. A substantial rise in the price of ETC directly translates to an increased demand for the digital currency and its blockchain platform. Hence, the network will see a rapid emergence of blockchain projects initiating Initial Coin Offerings (ICOs) based on Ethereum Classic.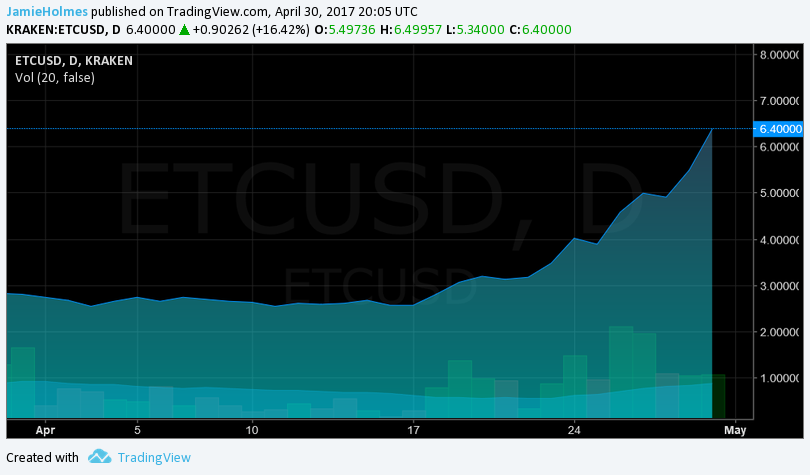 The Ethereum Classic community, including its developers, are trying to establish a more efficient and secure ecosystem for businesses or blockchain project operators to initiate ICOs. Conceptually, an ICO is a phenomenal method of raising funds and capital without the presence of intermediaries. Unfortunately, they have been abused by organizations with malicious intent.
While the development community of Ethereum Classic is urging investors to be more cautious of ICO scams and projects without clear mid and long-term roadmaps, the community is helping businesses by introducing tools such as ETCDEV developers Igor Artamonov and Dmitry Ulanov's Emerald Wallet.
ETCDEV and its developers will not associate themselves with ICOs, due to their dedication to improving the core client. However, by launching tools like the Emerald Wallet software which enables ICO projects to distribute funds, secure capital and optimize operations transparently, the ETCDEV team hopes to increase developmental activity within Ethereum Classic.
Sourced from crypto.news.

Written by Joseph Young on 2020-03-28 00:43:42.