This week we saw the price of ether, the cryptocurrency driving the Ethereum blockchain, spiking after JP Morgan announced that it was signing a partnership with Bank Santander and BNY Mellon to develop new solutions using the Ethereum blockchain technology.
Enterprise Ethereum Receives Boost from Banks
On February 14, the Ether-Bitcoin exchange rate hit an 82-day high of 0.01350 on the Poloniex exchange. ETH-USD posted its largest one-day gain since August 2016 in the aftermath of the DAO disaster. It seems that the sudden spike was motivated by reports mentioning a new initiative called the Enterprise Ethereum, aiming to develop distributed applications (dApps) on the Ethereum blockchain.
This is said to be carried out by JP Morgan, BNY Mellon, and Banco Santander. According to several news outlets, a few FinTech firms such as BlockApps and ConsenSys and many other software industry giants like Microsoft, Red Hat and Cisco, are also said to be part of this new Ethereum initiative.
Jeremy Millar, chief instigator of Enterprise Ethereum and former Goldman Sachs investment banker, recently stated, "We believe Enterprise Ethereum will contribute significantly to the overall development of Ethereum." He also revealed that the new initiative would help advance the development of the public Ethereum blockchain, while simultaneously furthering R&D of private Ethereum networks that are necessary for specific use cases.
The participating companies have not released any official statements on the new initiative, but there have been several reactions to Enterprise Ethereum within the community. Although a big part of the community believes this news to be the cause of the recent price surge. However, some members are saying that it might be something else.
Has Ethereum Overcome Security Issues?
Another significant event that occurred on February 14 was that Ethereum's Vitalik Buterin published a blog post announcing that work is beginning on the next hard fork, known as 'Metropolis.' Since the Ethereum Proof of Work (PoW) phase is going to end soon, and a Proof of Stake (PoS) phase is going to take its place, the market might also be responding to that, with 'Metropolis' laying the groundwork.
Many Ethereum supporters agree that large banks will use Ethereum's blockchain to bolster the legacy financial system, instead of transforming it, but many other have an entirely different point of view and see this involvement with banks as a threat. While some members of the community perceive the growing entanglement between Ethereum and the corporate world as a potential threat to decentralization, others consider this as an opportunity for the Ethereum technology to establish itself as the leader in the "smart contracts" industry.
A Long-term Bull Market Forming for Ether?
The asset price has been plummeting ever since the DAO event, but lately, it seems to be somewhat stable with its value moving above $10. Even though the DAO event turned out to be a severe blow for the Ethereum community, its popularity continued to grow making it the second most traded digital asset after Bitcoin with over $1.1 billion in terms of Market Cap.
As stated in BTCManager's Weekly Cryptocurrency Market Outlook on February 14, limit buy orders were suggested for around $11.63, where the recent bullish breakout pushed as high as $13.58. Also, notice that from the chart below, a close higher than $12.26 on Sunday, February 19 will give a strong buy signal and point to a long-term bull market emerging for ETH-USD. A bullish Ichimoku cloud breakout will indicate the start of an uptrend that will see the market try to regain the previous highs of $14.45, $15.23, and $21.48.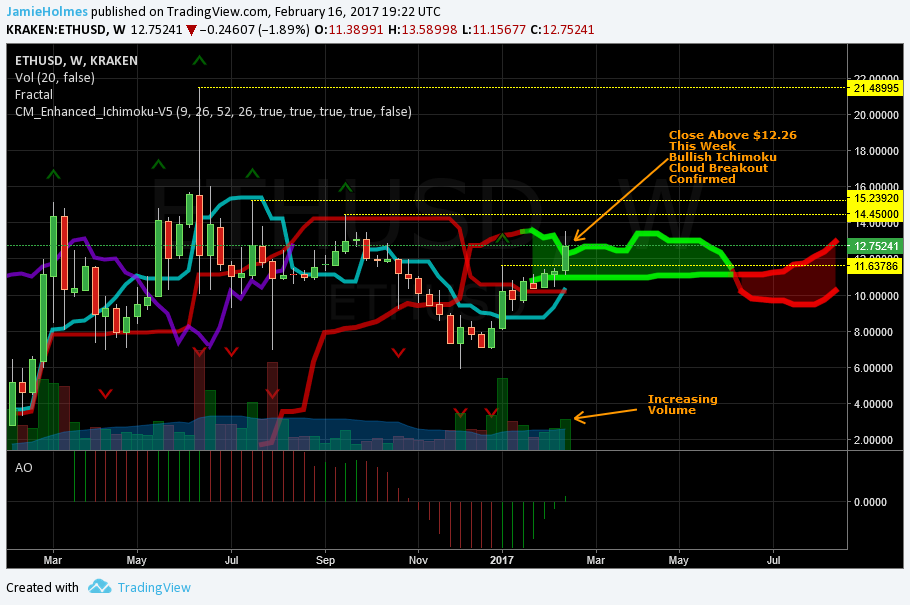 Furthermore, notice from the chart above the conversion line (blue) is starting to cross above the base line (red), indicating that long-term momentum is shifting in favor of bulls. Upward momentum is also confirmed by the Awesome Oscillator, which is moving into positive territory after remaining subdued below zero since November 2016.
Now, with the recent news followed by the approaching end of the PoW phase, anything can happen, so it might be a good idea for all you investors out there to keep a close look on the ether price in the coming weeks.
Do you think we are heading to a long-term bull market for ether? Please share your comments!
Contributions by Jamie Holmes
Sourced from crypto.news.

Written by Nuno Menezes on 2020-03-28 00:15:43.