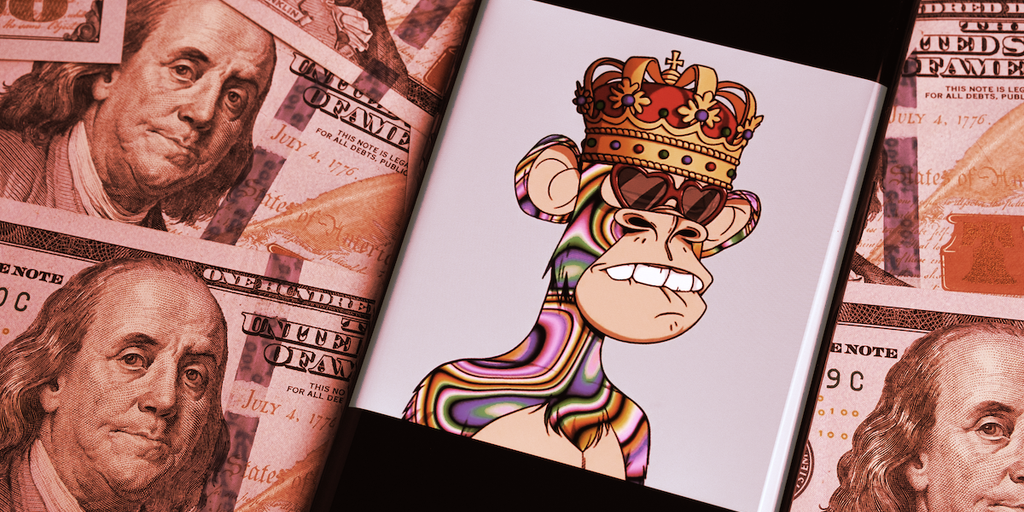 Despite months of declining sales and falling prices, overall NFT sales volume last year nearly matched the 2021 peak, according to data from DappRadar. A buzzy start to the NFT market in 2022 buoyed the year-end tally and helped make up for the several weaker months that followed, the data suggests.
The NFT market generated around $24.7 billion worth of organic trading volume in 2022 across blockchain platforms and marketplaces, DappRadar shared with Decrypt. That's a slight dip from the $25.1 billion total recorded in 2021 as the NFT market surged in activity and interest as tokenized collectibles first became more than a niche interest.
DappRadar's "organic" data excludes trades that are suspected to be wash trades, or trades that have been manipulated in some way.
Wash trading often occurs when traders sell their own NFTs back and forth between their controlled wallets at inflated prices, often in an attempt to game a token rewards model on a marketplace. Billions of dollars' worth of wash trading was excluded from the data, as seen at marketplaces like LooksRare and X2Y2, which offered token incentives for trading.
While overall trading volume for the year was largely flat, DappRadar recorded a major surge in the number of NFTs traded last year. The analytics firm recorded about 101 million NFT trades over the course of 2022, compared to about 58.6 million NFT trades in 2021. In other words, more NFTs were traded at lower USD values, given crumbling crypto and NFT prices.
NFTs in 2022
The crypto market lost significant value over the course of the year, with losses accelerating in May amid the collapse of Terra's LUNA and UST. The so-called crypto winter was then exacerbated by the downfall of crypto exchange FTX and the resulting industry contagion, impacting crypto prices further.
The NFT market followed a similar progression throughout the year. Sales surged in January as 2021's momentum carried into the new year, as top marketplace OpenSea alone registered a record month with $5 billion in trading volume.
Trading volume dipped in the months thereafter, but then the massive late April launch of NFT land plots for Yuga Labs' Otherside—a Bored Ape Yacht Club-themed metaverse game—buoyed the market and drove OpenSea to a single-day record for trading volume. At that point, it looked as though 2022 NFT sales volume could handily top 2021's tally.
That spike didn't last, however. As crypto prices collapsed in May, so too did NFT trading momentum, with prices falling sharply as a result. Monthly volume fell from nearly $3.3 billion in May to just over $1 billion in June, per DappRadar, but the market hasn't topped the $1 billion mark in the months since.
Ethereum's Bored Ape Yacht Club was last year's top-selling NFT project, according to data from CryptoSlam, with nearly $1.6 billion worth of trading volume. However, the vast majority of that trading took place between January and May, as starting prices fell from a late April peak of $429,000 worth of ETH to a recent low of under $60,000 in November.
December data
Compared to the early-year heights, the NFT market ended 2022 with a relative whimper. But overall trading volume ticked up slightly over November's tally, while the number of NFTs sold in the final month of the year rebounded after a dip the previous month.
According to DappRadar, the NFT market produced nearly $684 million worth of organic trades in December, up from an adjusted total of over $662 million in November. About 6.7 million NFTs were sold during the month, up from about 4.8 million in November and 6.1 million in October.
OpenSea remained the leading marketplace for organic NFT trades, notching over $297 million worth in December, according to DappRadar. That's up from about $259 million in November. Blur, a newer rival that has incentivized NFT trades with the promise of upcoming token rewards, jumped from about $115 million in November to almost $177 million in December.
The Solana blockchain continued its recent up-and-down pattern, falling to nearly $70 million from $95 million in November. It had previously dipped to $67 million in October after a hot September that saw nearly $134 million in NFT sales on the back of the launch of y00ts. The value of SOL fell sharply in November and December due to the FTX collapse.
Meanwhile, Flow—the blockchain platform behind NBA Top Shot and NFL All Day—stemmed the bleeding after two straight months of 50% or greater declines. Flow posted about $6.8 million in NFT sales in December, down from about $7.7 million in November.
And Top Shot saw its first small month-over-month gain after months of declines, up to $2.2 million in December (per CryptoSlam) after less than $2.1 million of NFT sales in November. The FLOW token set a new all-time low price earlier this week after steadily losing steam amid falling NFT activity on the platform.
Stay on top of crypto news, get daily updates in your inbox.
Sourced from decrypt.co.

Written by Andrew Hayward on 2023-01-04 23:11:49.