How smart contract wallets like Ambire open-up web3 and DeFi without compromising security.
With the recent collapse of FTX and BlockFi, as well as other centralized entities like Celsius and 3AC earlier this year, the crypto community seems even more committed to enabling self-custody to everyone and educating the public on its benefits.
There are already many public accounts of how the FTX/Alameda scandal and financial predicament came to be, and the ensuing debate has already pointed towards why it happened and how self-custody mitigates such risks. 
As the DeFi space is  doubling-down on efforts to "convert" more and more people to self-custody, we see questions such as: 'How to use DeFi like a CEX?' or 'What are the DeFi alternatives to FTX?' and 'How to switch from FTX to a non-custodial wallet?' raised by the concerned public. 
In this article we explore how a self-custodial smart wallet can be used instead of centralized exchanges (like Binance, FTX, Crypto.com, Huobi, Kraken, KuCoin etc. ) without sacrificing features. 
DeFi and Web3 safely, from a smart wallet dashboard
Smart contract wallets are at the moment in the spotlight, as many claim them to be both the safest way to crypto security (assets are protected by code and bound to the algorithm of the contract) and the tools to create processes and organizations for a future decentralized society. Smart wallet accounts are in fact smart contracts deployed directly on the blockchain, making them immutable. And the account keys —  i.e. the custody of the account— are permanently held by the account user, while the danger of losing seed phrases (common in EOAs like MetaMask or hardware wallets) is abstracted away using sophisticated and hybrid forms of protection such as multisig and social recovery. 
Our weapon of choice for the day is Ambire, an open-source self-custodial smart contract wallet that focuses on security and UX, while also delivering easy web3 and DeFi engagement. Designed for the EVM space, their recent 'Own Your Money' campaign captures the crypto ethos as we're moving forward from the FTX  scandal. 
Although comparable results can be achieved with other smart contract wallets like Argent or [Gnosis] Safe,  Ambire distinguishes itself through its easy on-boarding and overall UX, offering features like email & password sign-up, informative UI or its curated dApp catalog . 
Registering a self-custodial account with email only
One unique feature to Ambire Wallet is that users can securely use email/password to register, so they don't make any UX compromises compared to a CEX; this approach also excludes the need to manage a seed phrase.
Pro tip: Use a Trezor or Ledger hardware wallet with Ambire for additional security
Another advantage when opening a self-custodial account with smart contract wallets is that users don't need to pass a KYC ("Know your customer") procedure. In Ambire's case, the sign-up process takes less than 30 seconds, similar to web2 platforms: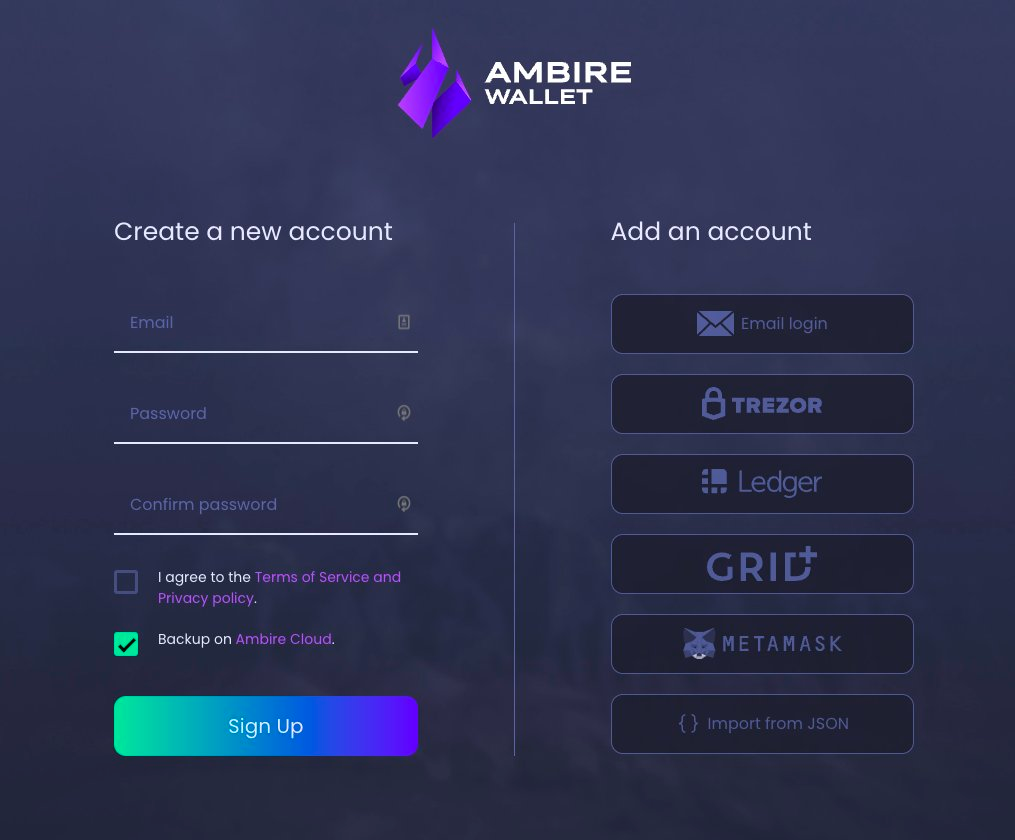 Buying crypto
Users don't need to own crypto to start using smart contract wallets:  just like on any centralized exchange, they can top up their account through different methods, such as:
Bank wire

Credit card

Debit card
With Ambire Wallet, top-ups are available in EUR, USD, CAD and more currencies, and are supported through 3rd party on- and off-ramp partners.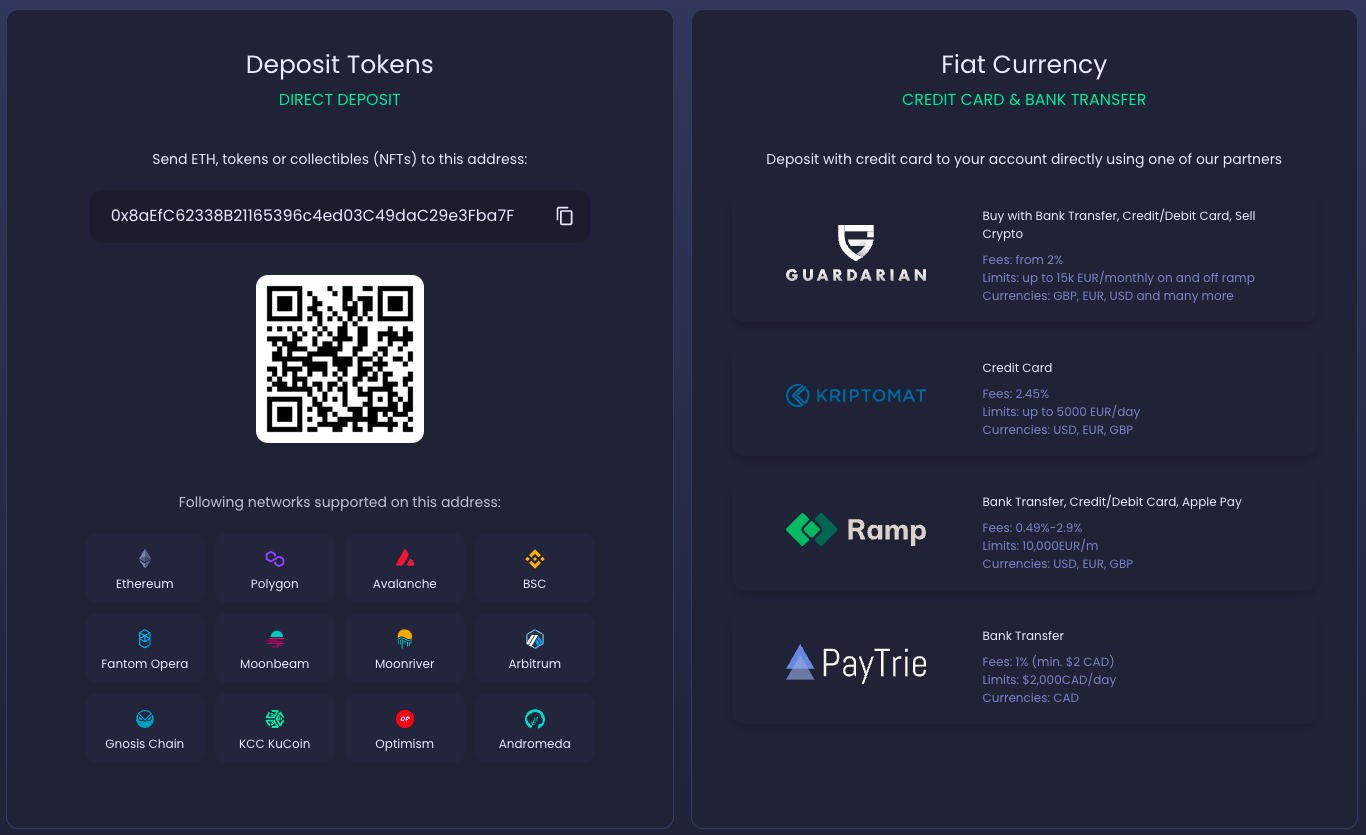 Spot Trading – How to trade with smart contract wallets
Users can trade-spot on decentralized exchanges (DEXes) instead of centralized ones (CEXes): funds always remain in their custody, while activity is recorded on-chain and protected against fraud by smart contracts.
For a simple market order, users can navigate to the Ambire Wallet Swap tab and choose between thousands of tokens to exchange: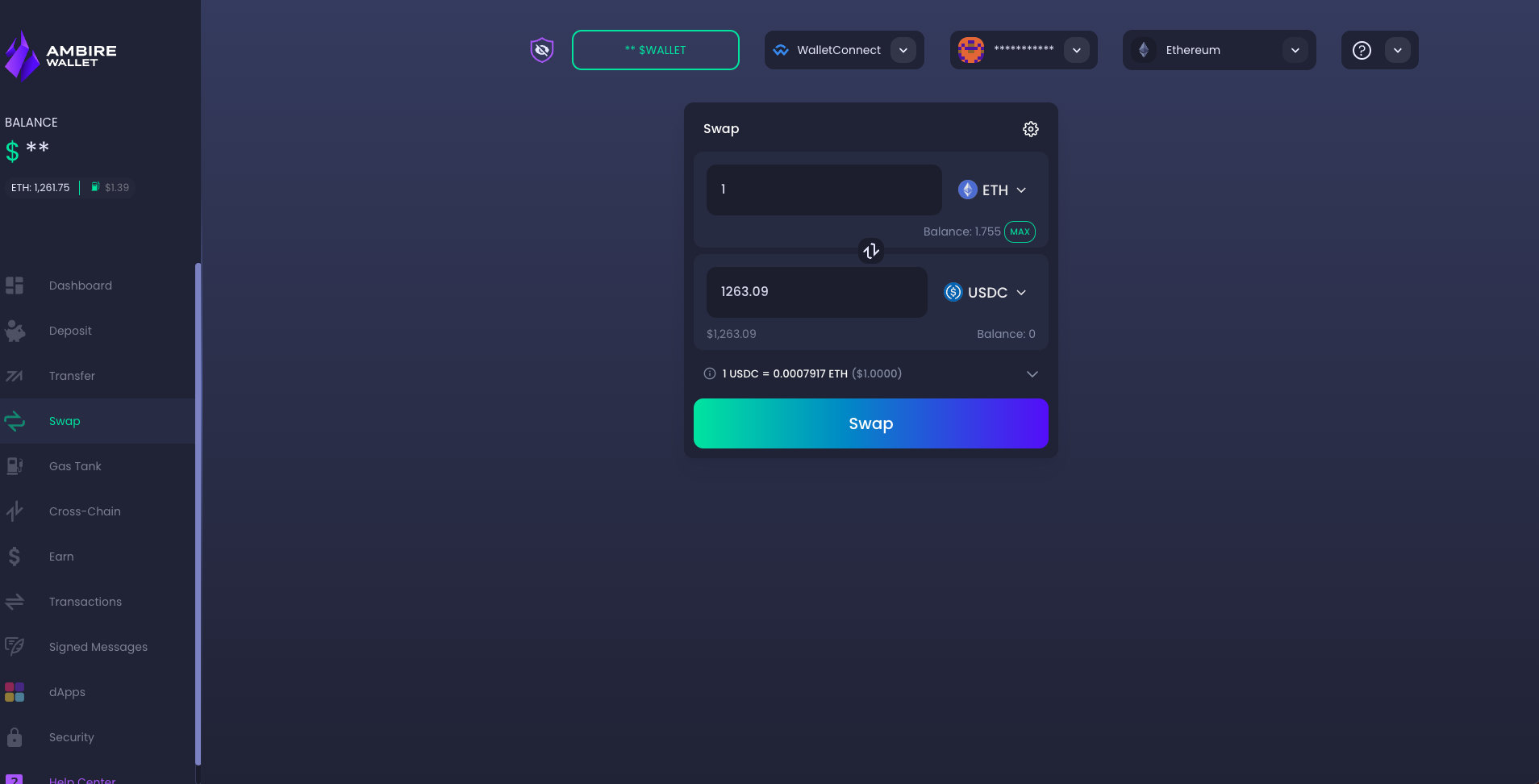 How to execute a limit order with smart contract wallets?
To execute limit orders on DEXes with smart wallets, users can simply go to the desired platform and connect their wallet through its WalletConnet feature — below the 1inch protocol DEX connected to Ambire Wallet: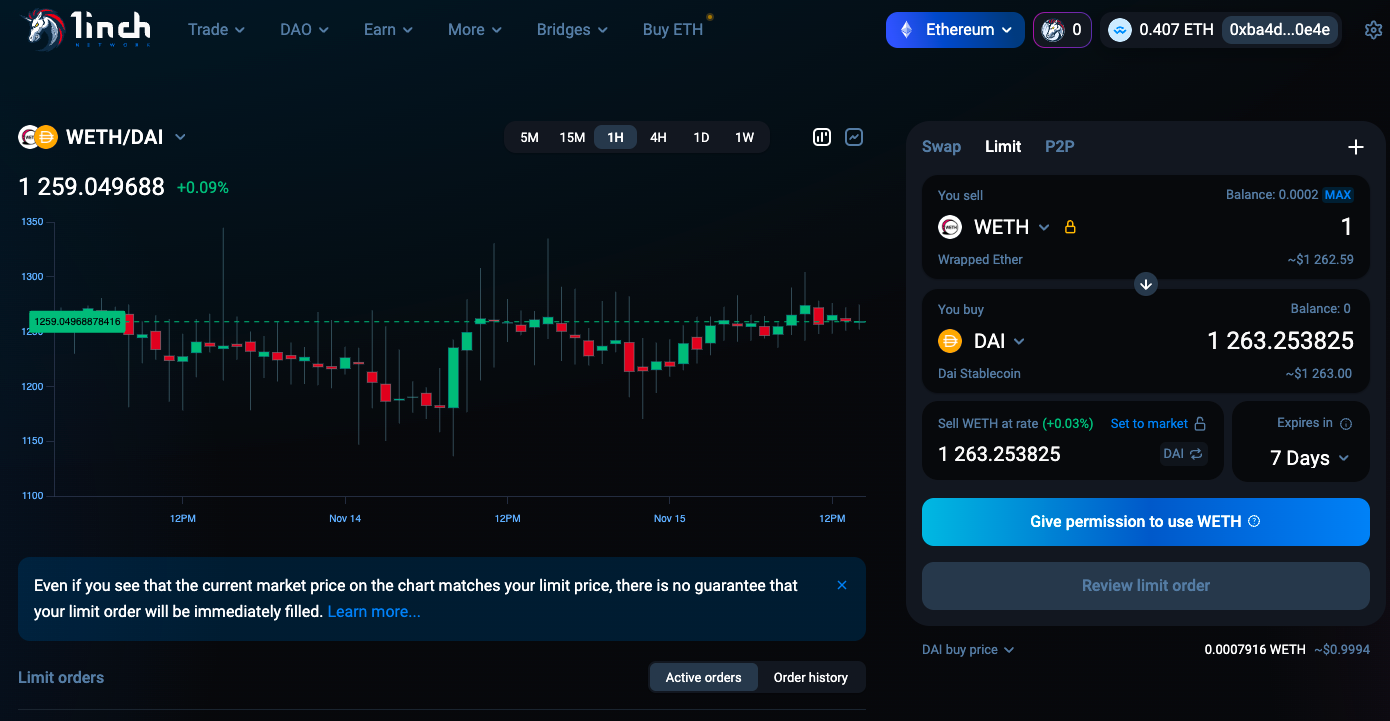 Pro tip: Users can even engage in P2P trading on 1inch with Ambire Wallet
How to trade perpetuals with smart contract wallets?
Crypto-savvy users also engage with perpetuals on DeFi, and that's also possible with smart contract wallets. Similar to the limit order procedure, users need to navigate to the desired trading platform and connect using the WalletConnect feature. 
With Ambire Wallet, users can use GMX  and long or short tokens on the Arbitrum network with up to 30x leverage. Alternatively, they can also  try Mycelium or dydx.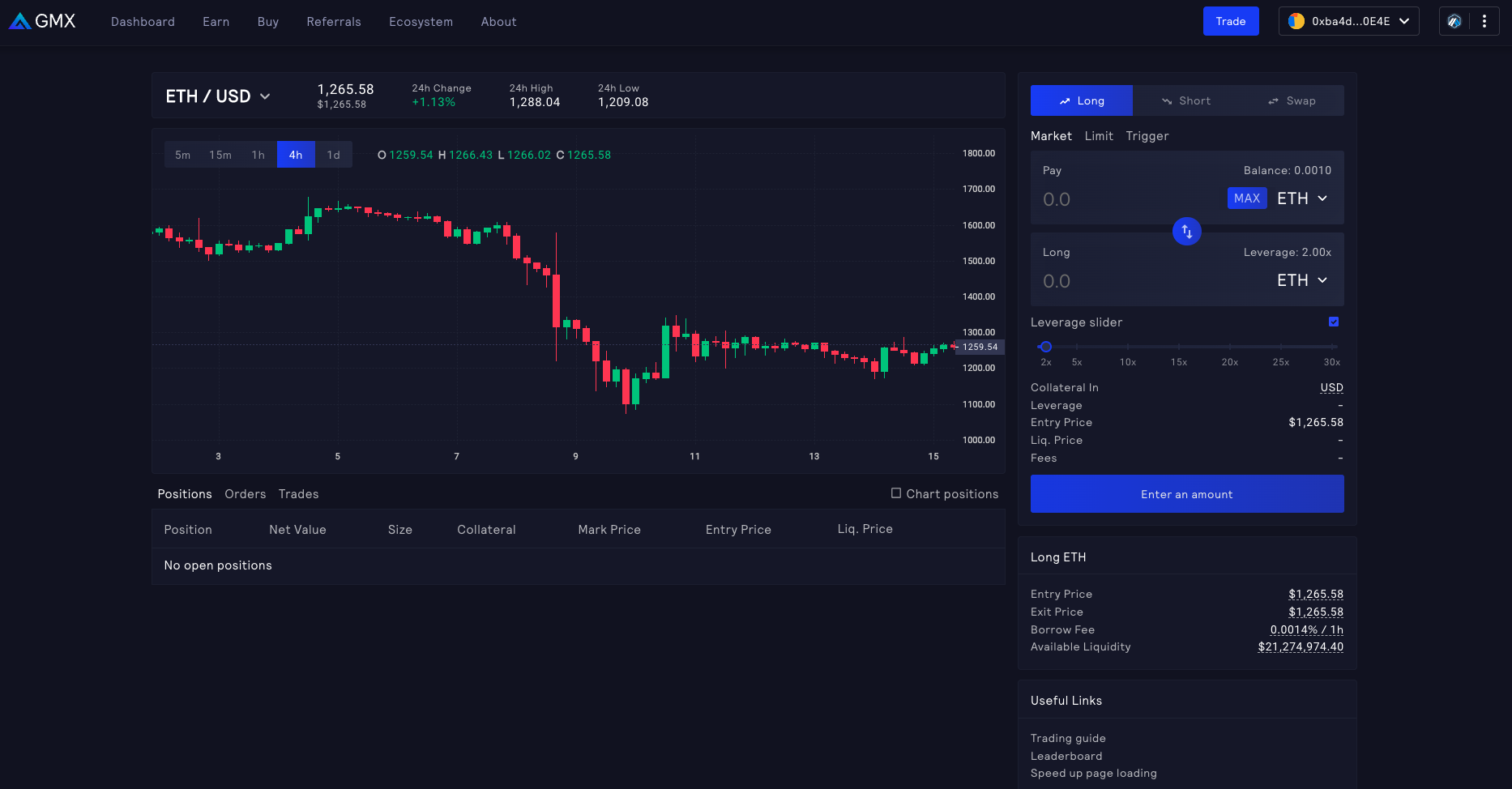 How to stake ETH with smart contract wallets?
CEXes usually offer exposure to staking in DeFi protocols at the cost of staking fees. A preferable alternative for users is to directly connect to staking protocols. 
With Ambire Wallet, users  you can engage in  ETH "liquid staking" via Lido Finance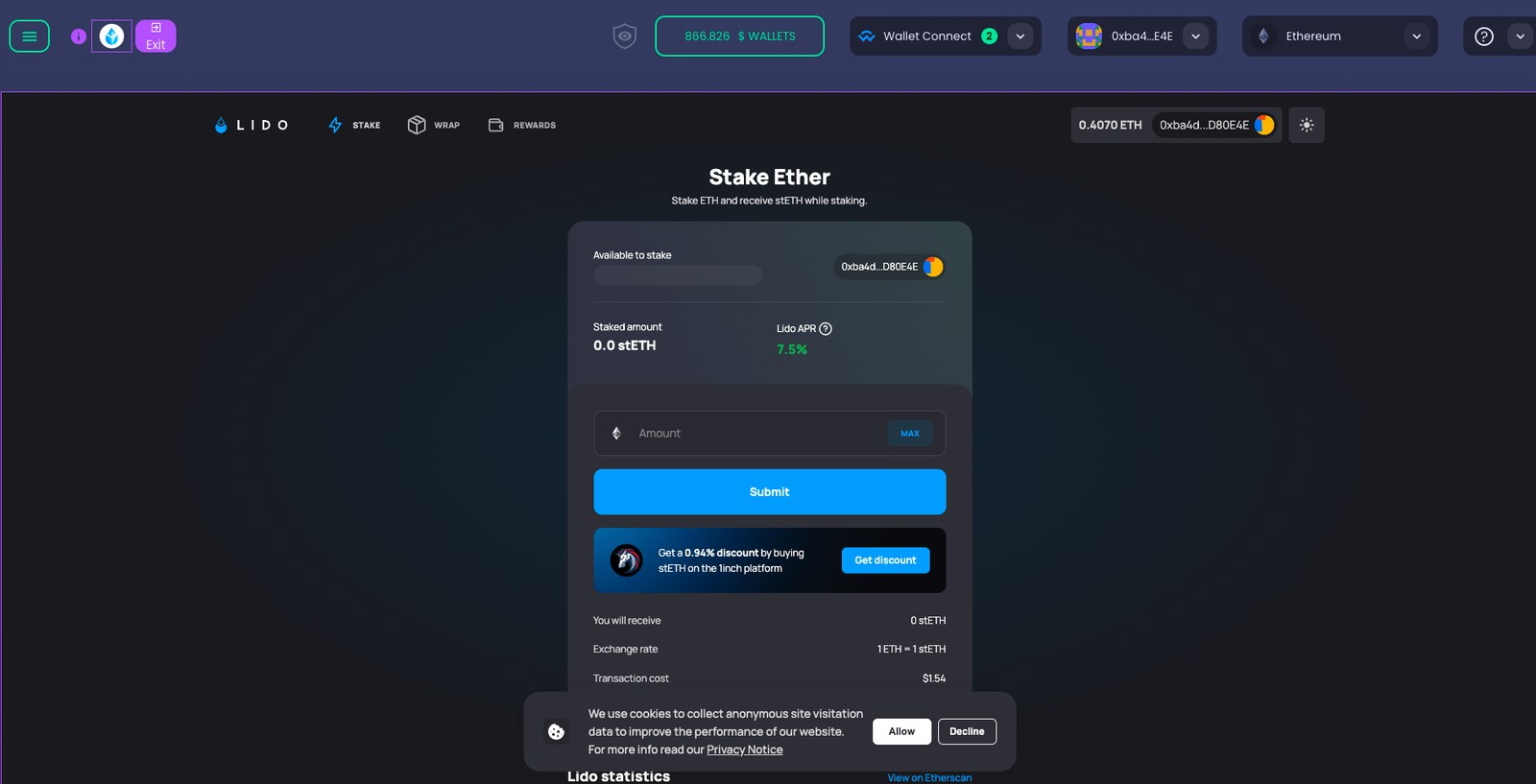 Engaging DeFi protocols with Ambire Wallet
Ambire offers a curated web3 dApp Catalog, available straight from the user dashboard on the twelve  L1 and L2 supported networks. The dApps vary from exchanges to vaults to DEX aggregators, voting and signing solutions or 3D virtual worlds (e.g. Decentraland) and are integrated after security and compatibility validation by the wallet's team. 
The dApp Catalog features ParaSwap, CowSwap, Hop Protocol, Sudoswap, AAVE, Balancer, DeFi Saver, Stakewise and many others.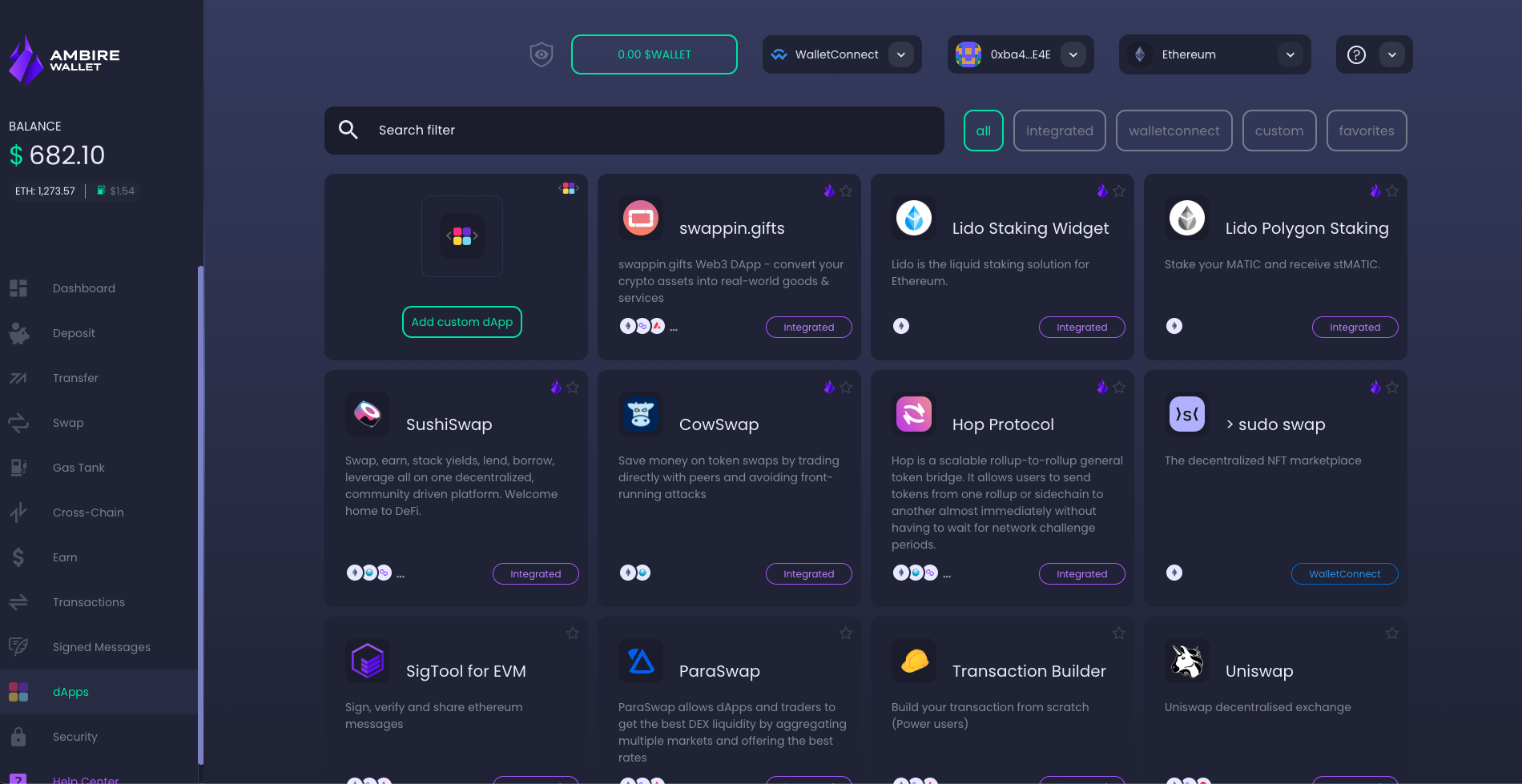 How to withdraw crypto to FIAT
Some smart contract wallets also have cash-out solutions for crypto. 
Ambire Wallet allows users to withdraw funds just like any centralized exchange, with the rassuring exception that it cannot freeze user assets. 
Cashing out is done via 3rd party off-ramp solution Guardarian, with fees starting  from 2% (depending on geography and applicable legislation) and limits of up to 15k EUR/monthly. Available currencies include EUR, USD, GBP.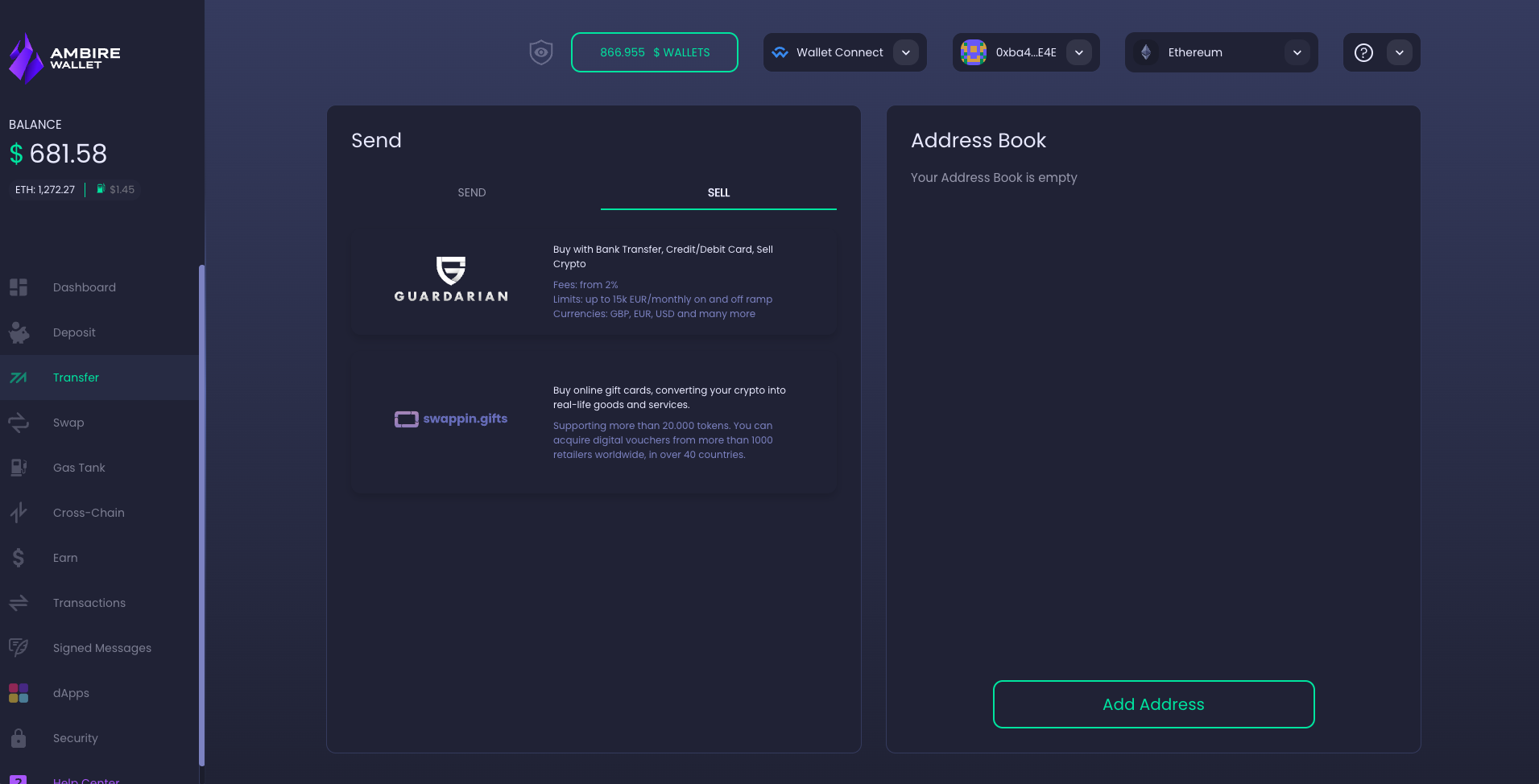 Could Smart Contract Wallets be the future? 
Even though less known than MetaMask or Crypto.com, smart contract wallets are now being recognized as a superior technology from a security standpoint. At the same time, it is clear these types of wallets have already developed tools, features and capabilities able to deliver what users need: apart from guaranteed security, a way to engage, organize processes and social interaction, trade and earn on web3. With so much to be offered to a public in need of security and stability, it remains to be seen if smart contract wallets can become the dominant technology of the decade. 
Disclaimer
As with any type of trading or financial enterprise, users are encouraged to do their own research (DYOR). This article does not constitute financial advice. Using DeFi protocols instead of trading on CEXes comes with inherent risks, although none of them connected to smart contract wallets: 
Understanding how protocols work
Disclaimer: This article is provided for informational purposes only. It is not offered or intended to be used as legal, tax, investment, financial, or other advice.
Sourced from cryptodaily.co.uk.

Written by Laurie Dunn on 2022-11-17 09:44:05.