DeFi

---
Avalanche-based lending protocol Defrost Finance declared that the refund contract had been set up on the Avalanche C-Chain. Users who were impacted by the prior hack may begin requesting refunds on January 11 at 0:01 UTC.
According to Defrost, the contract will have a 100-day hold on the fund. It recommended clients submit refund requests as soon as feasible.
Defrost was abused in the past. A malicious pricing oracle was employed, along with the addition of a phony collateral token to liquidate existing users.
Avalanche-based lending protocol Defrost Finance announced it had deployed the refund contract on the Avalanche C-Chain.
Users who were affected in the previous hack can claim their refunds starting from January 11 at 0:01 UTC.
🚨 Refund contract deployed 🚨

🔎 It is available on the Avalanche c-chain: 0xaAfE36D3e1C784347D3bADE21D162e5A996Ba3f0

💰 The refunds will be available starting on January 11 at 00.01 UTC. (In about 12 hours.)

See our guide on how to claim here 👉 https://t.co/HOih0sQr7g

— Defrost Finance 🔺 (@Defrost_Finance) January 10, 2023
*Here are the instructions on how to claim funds:
Go to https://snowtrace.io/ and search the following contract address: 0xaAfE36D3e1C784347D3bADE21D162e5A996Ba3f0.

Once the following page opens, click the Contract tab and then the sub-tab Write Contract.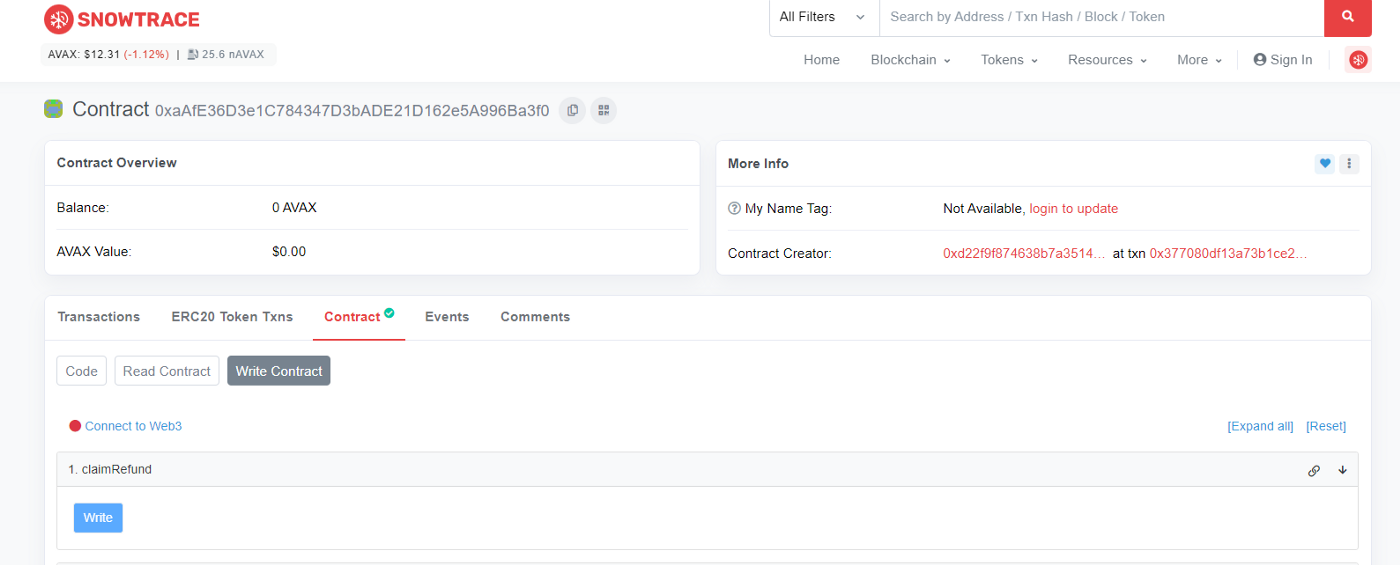 Click connect to web3 to connect your web3 wallet.

Click on claimRefund to show the function button Write.

Click the button Write to claim and confirm the transaction in your wallet.

If the transaction is successful, your fund will be sent to your wallet as Dai.e. (Make sure you have added the token to your wallet to see it.)
Defrost Finance said the fund would be locked in the contract for 100 days. It advised users to claim refunds as early as possible.
Previously, Defrost Finance was exploited. Investors had reported losing their staked Defrost Finance (MELT) and Avalanche tokens from their MetaMask wallets when the announcement was made. A fake collateral token was added, and a malicious price oracle was used to liquidate current users. The loss exceeded $12 million.
The platform announced the process of refunding assets to owners. However, DeFiYield at the same time announced it had done its Exclusive On-Chain investigation on Defrost, exposing the exploited firm was lying.
DISCLAIMER: The Information on this website is provided as general market commentary and does not constitute investment advice. We encourage you to do your own research before investing.
---
Sourced from cryptonews.net.