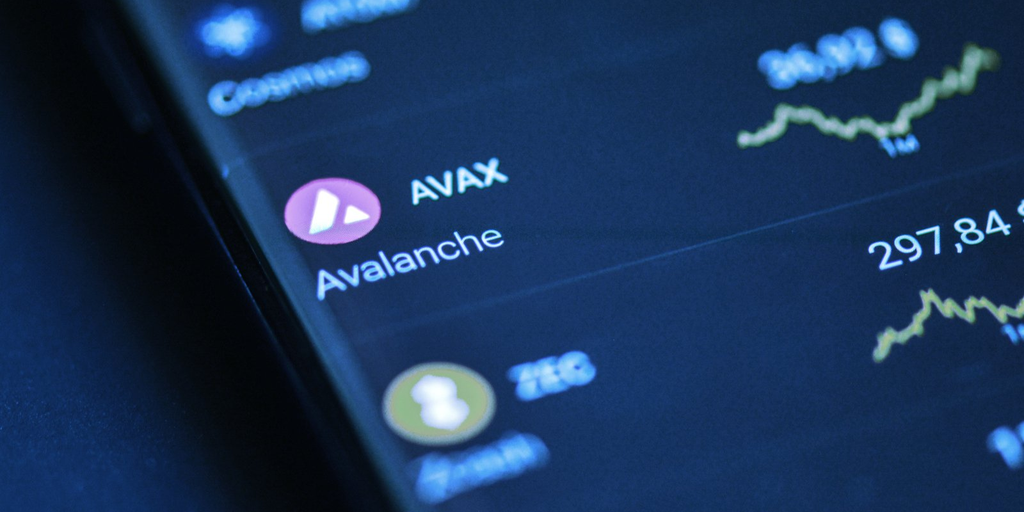 The Avalanche network's AVAX token was down around 2% Friday morning after the Grayscale Digital Large Cap Fund dumped its holdings.
Grayscale disclosed the portfolio rebalancing in a Securities and Exchange Commission (SEC) report on Friday morning, saying it had "adjusted the fund's portfolio by selling Avalanche ("AVAX") and using the cash proceeds to purchase the existing fund components in proportion to their respective weightings."
The company noted the change in a thread on Twitter, saying that it also rebalanced its DeFi Fund to add Synthetix (SNX) and Smart Contract Platform Ex-Ethereum Fund to remove Algorand (ALGO).
🧵 Today we announced the latest quarterly update to the component weightings for our multi-asset crypto index funds:

Grayscale Digital Large Cap Fund $GDLC
Grayscale DeFi Fund $DEFG
Grayscale Smart Contract Platform Ex-Ethereum Fund #GSCPXE

Read on for details:

— Grayscale (@Grayscale) January 6, 2023
Avalanche saw its token rally last month, climbing 6.9% to $13.65, according to CoinGecko. But on Friday morning it was trading at $11.56, down 15% from a month ago.
It's worth noting that AVAX made up only a small portion of the Grayscale fund's portfolio, which currently has $163 million in assets under management (AUM). As of September 30, AVAX made up less than 1% of the fund's assets, according to its last quarterly report.
Now the fund includes 65% Bitcoin, 31% Ethereum, 2% of the Cardano network's ADA token, and 1% each of the Polygon network's MATIC and the Solana network's SOL.
Grayscale has been tracking the CoinDesk Large Cap Select Index since July. The index, which launched in April, tracks the market capitalization-weighted performance of "the largest and most liquid digital assets."
Around the same time Grayscale started using the index, and after a regularly scheduled quarterly review, the fund dumped Bitcoin Cash (BCH), Litecoin (LTC), Chainlink (LINK), Polkadot (DOT), and Uniswap (UNI) stashes.
It makes sense that Grayscale would use a CoinDesk index for its fund; both companies are owned by Digital Currency Group. But DCG itself has been under scrutiny since November, when questions arose about the solvency of its lending arm, Genesis.
Since then, DCG has faced intense scrutiny. Yesterday the company shut down HQ, its wealth management division. The news, first reported by The Information, came out the same day that Genesis, another DCG company, announced massive layoffs.
Earlier this week, Gemini co-founder Cameron Winklevoss shared an open letter accusing DCG CEO Barry Silbert of "bad faith stall tactics." Genesis is the company's partner for its Gemini Earn product and has had $900 million worth of user funds locked on its platform since November.
Stay on top of crypto news, get daily updates in your inbox.
Sourced from decrypt.co.

Written by Stacy Elliott on 2023-01-06 16:36:27.