Popular crypto tracking service Whale Alert spreads the word that after releasing a staggering billion XRP from escrows on May 1, Ripple Labs behemoth has put back 70% of that amount – 700 million XRP.
A total of 300 million XRP tokens are likely to be injected onto the crypto market.
Ripple conducts regular monthly escrow operations
The fiat equivalent of the billion XRP released by the company on May 1 is $470 million. Ripple has been withdrawing a billion XRP each month since January 2018. This has been part of the company's strategy to maintain the stable supply of XRP on the market and spark interest from financial institutions.
Returning 700 million or 800 million XRP to escrow is normal for the blockchain giant, and it also extends the term of the XRP release program. These monthly XRP withdrawals have no impact on the coin's price, although, during the first few years, many in the XRP community were afraid it would and even started a petition to persuade Ripple to stop that practice.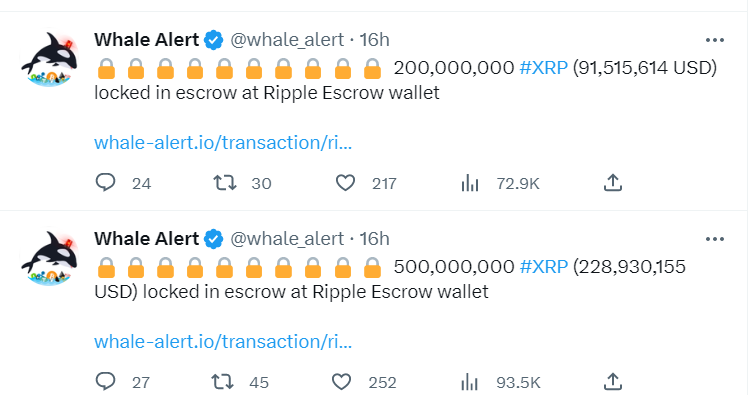 Whale grabs 24.7 million XRP on Binance
Whale Alert also reported that about an hour ago, an anonymous whale transferred a total of 24,757,056 XRP (the equivalent of $11,377,133) from the leading Binance exchange to their wallet. This likely signifies a purchase on the dip.
🚨 24,757,056 #XRP (11,377,133 USD) transferred from #Binance to unknown wallethttps://t.co/HKdjXoe9CO

— Whale Alert (@whale_alert) May 2, 2023
The sixth largest cryptocurrency, XRP (not native for Ripple, though), is now changing hands at $0.4613, according to data provided by CoinMarketCap. During the last 24 hours, the coin's price went down by less than 1%.
Sourced from u.today.

Written by Yuri Molchan on 2031-10-21 09:38:07.